"It's a dining room, albeit one so eager to project theatrical opulence, and so crammed with color and lush fabrics, that it seems to belong on a stage", wrote David Segal and Saskia Solomon in The New York Times of Bacchanalia, Richard Caring's boldest restaurant project to date, located "in the ritziest corner of one of London's richest neighborhoods." That is a locality which, as well as this jaw-dropping redevelopment, already features the serial restaurateur's Sexy Fish, Annabel's Club, 34 and Scott's.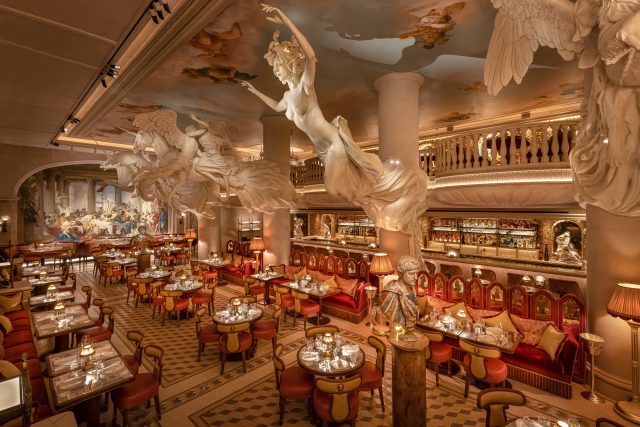 Suspend Disbelief
When interior designer, Martin Brudnizki worked on the redux of Annabel's Club he talked about pivoting from minimalist to "maximalist". In tandem with Richard Caring, the vision that is Bacchanalia is even more mighty than at 46 Berkeley Square. Alit with butterflies, a statue of a well-lunched Bacchus presides over the reception, while a quintet of Damien Hirst statues including a unicorn which appears when dining below it to be an alicorn owing to the winged angels at its side characterises the main dining room. At the end of this gallery, which was once a Porsche showroom, is Gary Myatt's floor-to-ceiling mural, "Romans In Their Decadence", besides which football manager, Mauricio Pochettino was dining on our visit. It features quirky modern moments such as an Apple watch and laptop hidden in plain sight. Meanwhile, several antiquities, including two Caesars, reaching back up to 2,000 years are also interspersed, perhaps best viewed when daylight filters gently through at lunchtime. Such artefacts are very well explained by the assistant restaurant manager, Ioannis Aronis who holds a Master of Science in Tourism Business Administration from the Hellenic Open University. And then there is the private dining room, Artemis, overlooking the comparatively monotone Berkeley Square as well as, from the balcony from which a DJ from Mikonos plays come the weekend, the full spectacle of the banqueting chamber below. The facilities also offer aesthetic titillation, the gents borrowing cues from Hades' underworld including the rather off-putting lion mouth urinals…
Drinks
The brain behind the suitably wowing 650-bin wine list is Caprice Holdings' Group Wine Director, Terry Kandylis who believes "wine defines the majority of Western civilisation." Awarded Best Sommelier in his native Greece and in the UK, and blessed with a photographic memory, Kandylis rose from senior chef de rang at The Fat Duck to assistant head sommelier at The Ledbury, followed by almost six years as head sommelier at 67 Pall Mall which he helped open, before becoming wine operations manager for Keeling Andrew & Co – the operators behind the realm of Noble Rot. Interesting picks from Greece include Argyros pre-phylloxera yellow stone fruit scented Assyrtiko, from the inhospitable igneous landscape of Santorini, the Barolo-like ungrafted Xinomavro from Thymiopoulos Vineyards, and a £1,100 "Mystery Wine" from Liber Pater. From Italy, Kandylis has amassed a page of wines awarded a full 100 Parker points including Solaia 2015 and 2016, singled out from an unprecedented collection of 19 vintages from the brightest part of the Tignanello's hillside, of which 14 are offered in magnum, seven in double magnum and five as imperials. The house Champagne is by Palmer. Prices stretch from £60 for a non-vintage of Tetramythos Winery's Retsina Amphora Natur, Achai, to £15,000 for 1989 Petrus.
Head of Bars, Tiago Mira, formerly of The Goring and before, that, The Ritz then Annabel's, oversees a cocktail list featuring a depiction of a mosaic hare blowing bubble gum. Drinks include the "Maenad", a "Tangy & Silky" blend of Japanese gin, raspberry, eucalyptus, white chocolate, Greek yoghurt and egg white. Named after "Bacchus' girlfriend" according to the bartender, Dennis Gaviria, its roots lie in the Clover Club. There is also Greek brandy, various Mastiha and Tsipouro to be found alongside a compendium of whiskies from Japan and, far closer to home, The Lakes distillery.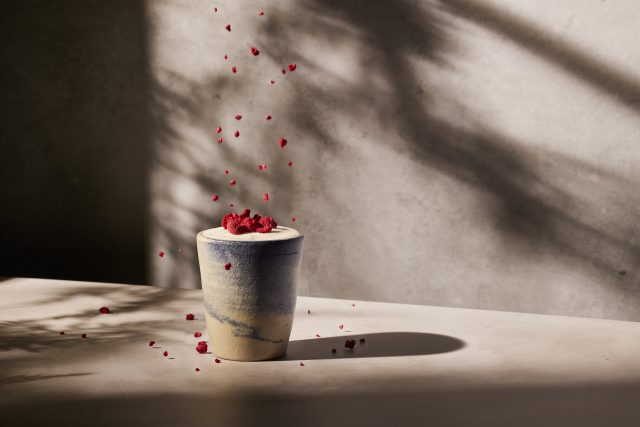 Dishes
Bacchanalia's culinary director is Athenian, Athinagoras Kostakos who also oversees all things culinary at the seasonal, must be seen at sunset club, Scorpios Mykonos, an Athens taqueria, Loco, and in Illinois, LÝRA and Taverna Violi – while having time, too, to serve as an ambassador for Aperol. His Mediterranean dishes such as the excellent 'nduja pepped beef tartare spun with bright orange Florina sauce, are often finished at the table. Another surprising hit of a starter was the Greek salad, enhanced with sea purslane, while the grilled octopus with an assortment of warm, soft beans and capers was enhanced by a little olive oil poured from a sculptural, headed vial modelled on one in use at the no doubt Bacchanalian Caring household. To follow, with optional white or black truffle, the wood-fired lamb to share with thyme sauce, lamb jus and smoky, wild oregano was a particular highlight, working with Bacchanalia's branded, balanced Brunello Il Poggione 2017.
Finally, rum baba filled with vanilla cream and served with star anise-infused pineapple was one of the neatest looking versions of the dish we have seen, while the soft serve Greek yoghurt ice cream with Metaxa syrup and chilli walnuts was an amusing way to culminate the long lunch before wobbling past the Bacchus at the door.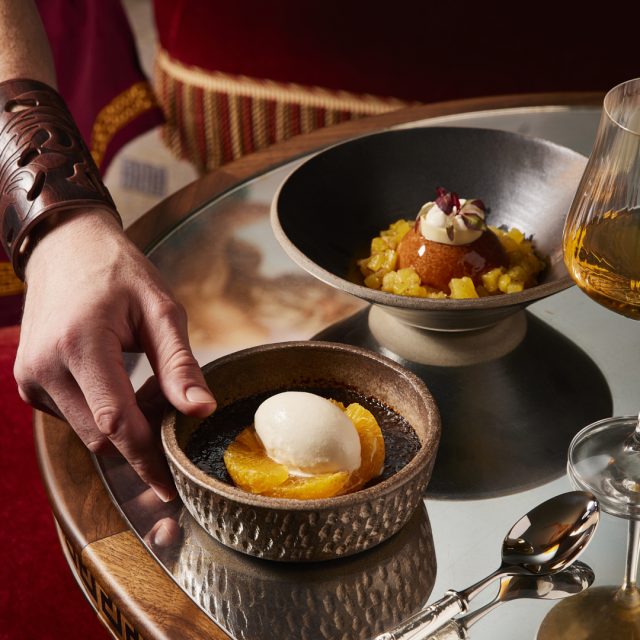 Last Word
Bacchanalia's overt extravagance could be seen as tone-deaf in times of austerity. However, if eschewing Bacchanalia-branded caviar and non-compulsory truffle, it might just about be possible to eat and drink memorably here for the cost of a parking fine, although, if not drinking, drivers of electric cars may park for free in Berkeley Square. The warmth of the team, many of whom came from Greece for the opening, the generously flavoured dishes and of course, the remarkable setting so cheery in the darker months, makes dining here an unforgettable and particularly celebratory experience. We will return to the soon-to-open on-site club, "Apollo's Muse", for a Martini, drawing from the well-researched olive menu for the finishing touch…
Best For:
100 Parker Point Collection
Greek-accented cocktails
Lavish setting
Value: 92, Size: 96, Range: 96, Originality: 94, Experience: 97, Total: 95
Bacchanalia – 1 Mount Street, London, W1K 3NA; t. 020 3161 9720; bacchanalia.co.uk
This article was originally published by the drinks business and has been shared with permission.