With its refined take on classic combinations and expertly-executed pairings, Louis Thomas finds a great deal to enjoy at William Drabble's Michelin-starred Seven Park Place.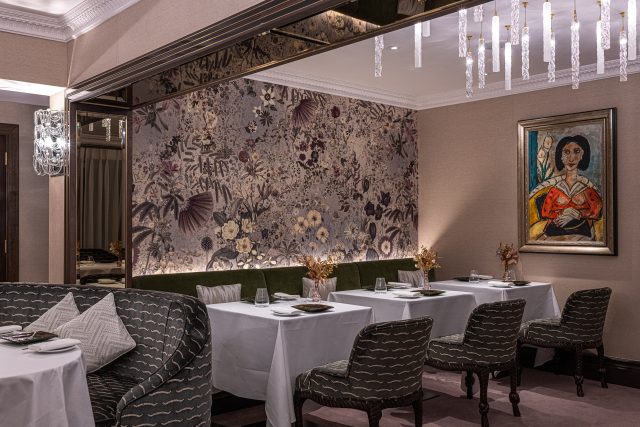 Resistant to the allure of 'here's one I made earlier' cookery on daytime TV, William Drabble, previously of Aubergine, Michael's Nook Country House Hotel and Pied à Terre, has remained behind the stove of his restaurant in St. James's Hotel & Club Mayfair since 2009. He has spent a lifetime honing his craft, and it shows. "Classics are classics for a reason," he explained after the dinner, "don't mess around with them too much." But it's one thing not to mess around with good ingredients, it's quite another to elevate them to new heights.
A large part of the restaurant's success in doing just that has been through Drabble's collaboration with sommelier Sergio Persi. Speaking with him, you might be forgiven for thinking that perfecting pairings is simply a case of combining two good things together: "I know the style of the chef, I taste some dishes, I find some wine." But don't be fooled – the pairings are precise and achieve that integral symbiosis that is all too easy to overlook: the wine makes the food better and the food makes the wine better.
The best way to begin proceedings is in the hotel's adjacent bar, 1857 The Bar. Comfortable, stylish, adorned with green marble and interesting art, it was a good spot to sit and daydream about what culinary delights lie in store just down the corridor.
By contrast, the dining room interior, though comfortable enough, did feel a tad gloomy, with its abundance of furnishings in numerous shades of grey. Thankfully, the somewhat eye-catching painting over my shoulder added a much-needed splash of colour. As for the music – any restaurant bold enough to play Richard Cheese (I suspect unknowingly) is halfway to winning me over.
But ambience means little if the food isn't up to scratch. Perhaps the ultimate showcase of this is the Menu Gourmand. At £140 without pairings, it's certainly not one of the cheaper spots in town, but I think even the most fine dining averse would be foolish not to try it at least once.
The canapés achieved the prime directive that the entire 'nibbles' genre should follow, but seldom achieve: they taste incredible. A white onion macaron that dematerialises into pure allium essence and a haggis croquette with barbecue sauce that serves as a robust counterpoint. A subsequent amuse-bouche of black mackerel, beetroot and crème fraîche is perhaps less out-there, but no less enjoyable.
After a very promising start, the menu continued on its impressive form with a Scottish scallop served with Jerusalem artichoke purée (the first of several purées in the menu), a crisp slither of Jerusalem artichoke skin, and a smoked bacon jam. Chewy in the right places (the bacon jam, not the scallop, thankfully), delicate and rich, it was well complemented by the searing acidity and aromatic bravado of the Schloss Lieser Riesling poured alongside.
Staying in Scotland just a little longer, the langoustine comes along, served atop a café au lait-coloured pool of foie gras sauce. The contrast of the slightly sweet crustacean (thankfully served minus the carapace) with the rich sauce, slightly bitter savoy cabbage and fragrant winter truffle was nothing short of sublime, and a demonstration of how luxurious ingredients can truly elevate a dish, rather than simply being for the benefit of menu descriptions, if used correctly. For me, this was the dish of the evening. The Caü-ha-pè L'Éclipse it was served with (the name an allusion to the winery's biodynamic practices) was a worthy accompaniment, with the addition of Lauzet to the blend of this Jurançon white adding a pleasant herbal aspect that worked very well.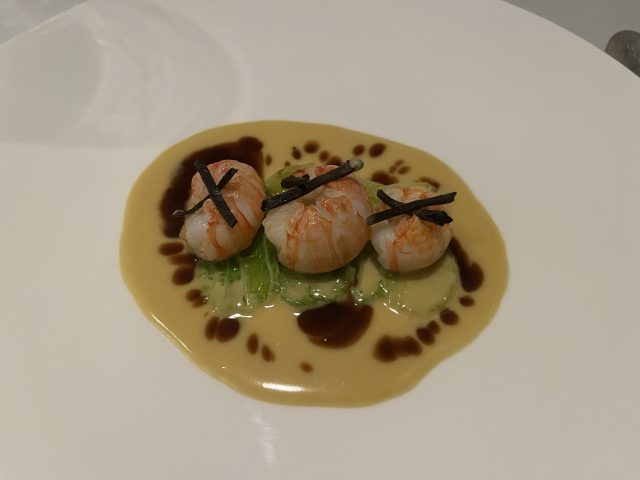 To follow, quail with caramelised endive, caramelised orange purée and burnt orange. A pleasant combination of sweet and bitter, I felt it served as more of an interlude, though on most other menus it would likely have been the standout dish. The accompanying Givry Premier Cru worked well enough, though personally I would have wanted a slightly bolder wine that really played off the bittersweet aspects of this course. I am prepared to concede that most people would favour white Burgundy in this instance.
After this, a triumvirate of lamb, in cutlet, rib and steak form, sourced from Rhug Estate in North Wales. Each offered its own unique flavour and texture, ranging from supple to fibrous to firm. Served with a white onion purée, spring onions/baby leeks, rosemary and a cylinder of potato slices confited in lamb fat (one of the more under-utilised animal fats in the kitchen, I find), it was a powerful reminder that classic flavour combinations exist because they can be extraordinary, not simply because they are traditional. Drabble said that he likes to visit the farms he sources meat from "to know where it's come from, to see how it's looked after". If happy animals do indeed result in better tasting meat, then the life of luxury this lamb must rival that of even the louchest drinks journalists. Of the duo of wines Persi chose for the course, a 2019 Pombal do Vesuvio (Douro, Symington Family Estates) and a 2018 Domaine Le Close des Cazaux Vacqueyras Cuvée des Templiers, I favoured the latter's floral and spiced aromas with this particular dish.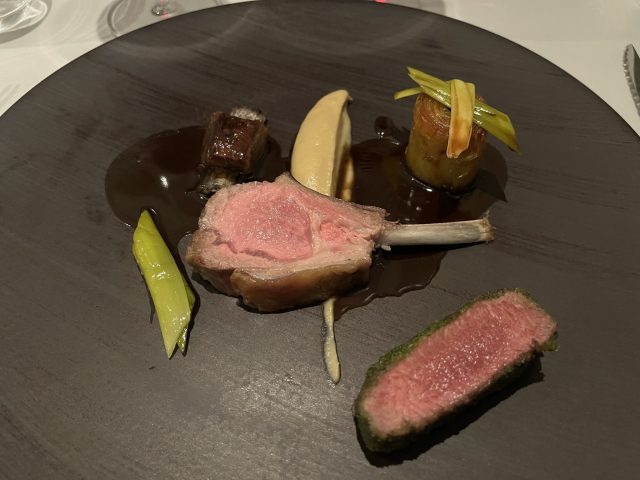 The palate cleanser was what I would call a sort of deconstructed, non-alcoholic Piña Colada: roasted pineapple (cooked in rum and spices for good measure), with meringues and a coconut sorbet. While I do not doubt that the famous Puerto Rican cocktail would be a perfectly nice accompaniment, the 2016 Château Coutet Sauternes chosen to pair with this tropical stop off was my personal favourite pairing of the meal. More than any other course, there was a harmony between what was on the plate and in the glass that sets a very high bar for palate cleansers to come.
When it comes to the stronger end of the wine list, Seven Park Place has acquired a reputation for its extensive Port collection. Upon tasting the sweet, fortified wine paired with the final plate of 'chocolate and orange', I was sure that I had a robust Ruby Port in my glass. But, shock horror, a twist in the tale, as the wine did not in fact hail from the Douro at all, but Roussillon. Fortunately, I think I managed to play off my blind tasting faux pas relatively convincingly.
Though a young Ruby Port could have filled a similar role as a suitably strong and fruit forward accompaniment to the rich dark chocolate, I nevertheless always appreciate the opportunity to taste something (very) unexpected, and the "semi-fortified" (as Persi dubbed it) 2020 Mas Amiel, made from Grenache Noire, was eyeopening indeed. The tartness of the clementine, which appeared in the guise of a sorbet and cubes of jelly, nicely offset what could otherwise be a slightly cloying combination. My one complaint would be that attempting to tackle this final course, as exquisitely constructed as it was, with just a spoon and dogged determination was surprisingly challenging, though, as with most desserts, ultimately rewarding.
It is admittedly to difficult to praise any menu with foie gras and truffles on it for exercising restraint, but Drabble's cooking has just that. Of course, there are flourishes to the dining experience that you can expect from a restaurant of this calibre, including the aforementioned truffle, and a member of staff who brushes crumbs from the table cloth, but what made it such a rewarding experience is that, with both the cooking and the wine, there was mostly a clear understanding of when to hold back and when to be bolder. Experience trumps all, in the end. This is a restaurant that has the substance and service to back up the style and price point that comes with an SW1A postcode.
Related reading: WLC Eats: I Portici, Bologna
This article was originally published by the drinks business and has been shared with permission.