"On décor alone, Berners Tavern knocks the Grill Room at Café Royal into second position as jaw-dropping settings to take someone you adore to," wrote Grace Dent in Evening Standard of the "big, brash" cuboid dining room of Fitzrovia's five-star London Edition hotel. A partnership betwixt Ian Schrager, the founder of the colourful Studio 54, and Marriott, the property reopened in 2013 following seven years of closure and one bankruptcy – though the fact it survives at all is due to John Betjeman who campaigned for it to be listed in 1972, having saved St. Pancras Station and the Chambers from developers the decade earlier. Under the compellingly ornate, five-and-a-half-metre-high ceiling is a collage of 211 paintings and photographs of varying intrigue which may again be appreciated not only using the glow of the replica chandeliers of those at Grand Central Station but also under daylight given for now with a reduced menu and tight window, lunch service has finally resumed post-pandemic. Seating two, the most romantic table in the house from which to survey the bustle below is the exclusive balcony vantage over the door.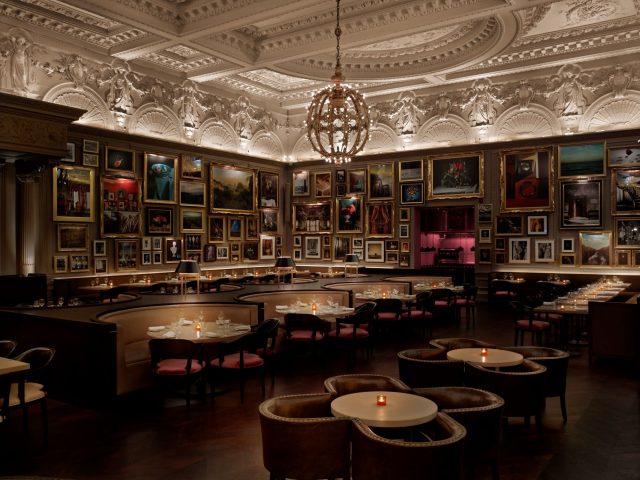 Wines On Wheels
Delightful Director of Wine, Giuseppe D'Aniello, grew up on the Amalfi coast, moving to London where he became a bartender at Nobu, then sommelier at Locanda Locatelli, Roka, The London Edition under the previous head of wine, Matteo Montone MS, and The Lanesborough where he realised that being in his early 30s he was too young for those surroundings, before returning to the much cooler London Edition where he oversees six all-Italian sommeliers at Berners Tavern and indeed all matters wine throughout the building. Established service rituals include two trolleys of Champagnes where La Grande Dame is offered by the glass, with the likes of Dom Pérignon Oenotheque dating back to 1970 available by the bottle for those with greater means. There is also a dedicated sweet drinks trolley featuring Peller Cabernet Franc ice wine and an umeshu, and one further trolley for decanting.
With the design of the layout approved by the Edition's brand team in New York, D'Aniello's list, which features improved, light putty-coloured paper stock, though will ultimately be converted to tablet, works hard to embrace the world, hence the presence of wines from Brazil, China, Israel and India, including one of the keenest priced bottles of the list, MS By Fratelli 2017 at £35. However, notable by their absence given the otherwise inquisitive nature of the list, are wines from the cradle of wine, Georgia and indeed sakes – which, given D'Aniello has qualifications in this area, is both a loss for his guests, his fellow sommeliers, and the breweries of Japan.
There are of course big guns available in this big room from Bordeaux such as Ausone 1995, Margaux 1985, Mouton 1990, Lafite and Palmer 1996 and four renditions of d'Yquem to 1986, as well as large formats of Gaja Barbaresco and bitesize half bottles of Krug, a charmingly dinky format rumoured to being phased out of production. From Burgundy, there is a special relationship established with Joseph Drouhin, as well as bottles from Leflaive, Comtes Lafon, Roulot and Coche-Dury and Romanée-Conti, the 1998 of the latter being the most expensive bottle on the list at £18,000. A dedicated page honours the venue's enduring friendship with Trimbach of Alsace, with whom D'Aniello regularly holds wine dinners – and it would be interesting to see more such producer focuses. From the USA, Vèritè's La Desir, La Joie and La Muse are present. And giving a hint of the quality of the Italian wine selection, on the day of our visit, Priscilla Incisa della Rocchetta was herself on-site demurely launching the cool climate character of Sassicaia 2020 (read our appraisal) to press, trade and private clients. Moments of treasure which might hold particular appeal to sommeliers if dining here include Quartz by D'Aniello's Master Sommelier friend, Dimitri Mesnard, and Clos Stegasta T-Oinos.
Like his predecessor, Matteo Montone, D'Aniello continues to run vinous education programmes at the venue, both for guests and his team – to WSET level two.
The tall bar is a big draw, overseen, in addition to the iconic Punch Room, by Anthony Callegari (formerly of Mortimer House) whose drinks include a rum-based take on the Manhattan, the "Ageing Hipster".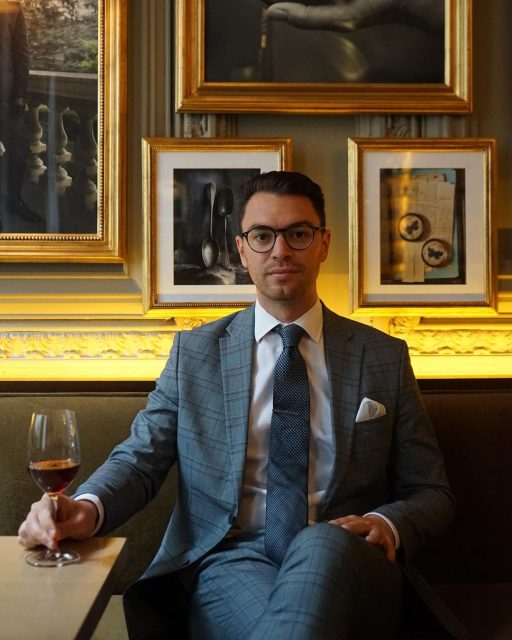 Dishes
Jason Atherton oversees a menu skilfully realised by Andrei "Jon" Poptelecan who took over after Phil Carmichael emigrated to the land of his South African wife. Expect fairly traditional dishes drawing on the produce of our islands often given much-appreciated facets of intrigue. Hence, beetroot-cured Loch Duart salmon is pepped by yuzu purée, while Butterhead salad with chicken "popcorn" is glossed with miso dressing, and prawn cocktail is served with an avocado wasabi purée. With the feel of a grill room, also expect stout meat dishes, from beef tartare with Marmite butter sourdough, to the côte de boeuf with presumably [Pierre] "Koffman fries". And likely of interest to visitors from abroad holding the belief that every Londoner digests fish 'n' chips daily, there is a slightly ungainly of presentation, battered Cornish cod with crushed peas and triple-cooked chips on the lunch menu, though the suggested tannic red wine match on our visit, being Ricasoli Castello di Brolio Chianti Classico lacked lucidity.
Last Word
Having survived the wrecking ball half a century ago, the sumptuous stage of a dining room is something of a miraculous survivor with a fitting wine list tended with care and curiosity. However, compared to a decade ago when Berners Tavern opened, London has seen an array of stellar openings with awesome aesthetics. To prevent the restaurant from becoming overlooked by non-residents, there is an argument to be made for bringing imagination to a food menu which could be described in parts as delivering safely sexed-up room service highlights. The contrast becomes ever more apparent when looking at the thrilling menus at other Edition hotels, including the dazzlingly beautiful evening menu created by Tom Aikens at The Jade Room, Tokyo, or the swagger of John Fraser's genuinely desirable carte at the Times Square property. One current dish which bucks the trend is the coffee and gianduja Alaska for two flamed with vodka at the table, encapsulating the fun and reward which ought to be associated with basking in such a setting – though one or two lifeboats alone cannot save an entire ship…
Best For:
A sense of grandeur
Trolleys of wine
A wine list offering a window into the world
Value: 94, Size: 94, Range: 96, Originality: 95, Experience: 93, Total: 94.4
Berners Tavern – The London Edition, 10 Berners St, London W1T 3NP; 020 7908 7979; bernerstavern@editionhotels.com; bernerstavern.com
This article was originally published by the drinks business and has been shared with permission.