With the help of its chef ambassador Ollie Dabbous, Lanson is expanding the on-trade listings for its prestige line Noble 2004, made in Brut and Blanc de Blancs styles, in a series of gastronomic dinners for Champagne enthusiasts held at venues round the country in March and April.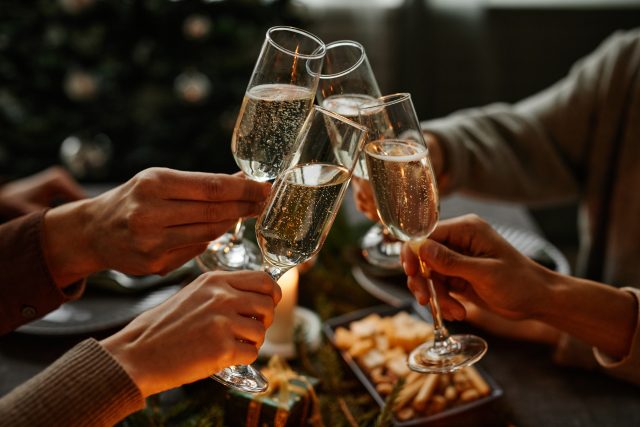 The series was introduced to the on-trade customers running the dinners, last month at Hide restaurant in Piccadilly, with Dabbous devising a special menu to match six different blends of Noble, two older releases, the 2004 duo, plus for a glimpse into the future of the brand, a pair of as yet unreleased wines.
This marketing initiative is, explains Lanson's UK managing director Robert Rand, aimed at introducing the new style Noble launched last September, to the appropriate on trade accounts and to drive wider listings. There was another Noble themed dinner at Mosimanns Club last week with 18 of their champagne loving clientele buying tickets and at least two more are planned in April at Malmaison in York and the Alex Webb restaurant at the Intercontinental in Park Lane. All these venues are listing the Noble champagnes.
Lanson changed the name of its prestige cuvée from Noble Cuvée, which was in later years made in three different styles – Brut Vintage, Blanc de Blancs vintage and unvintaged rosé – to just Noble with the 2004 launch last September. While Noble Cuvée wines released up until the 2002 vintage say "Noble Cuvée de Lanson on the front label, on the pair of wines from 2004, the name of the house doesn't appear on the front label at all. If a decision is made to spin off Noble as a separate brand entity on its own, à la Rare and Dom Pérignon (decent company to be in), the preparation work has been done.
At the Hide dinner last month, we had the chance to taste both current incarnations of Noble — Brut Vintage and Brut vintage Blanc de Blancs — from the very fine 2004 vintage – no longer the under rated year the Champenois definitely saddled it with originally and mistakenly. Chef Ollie Dabbous sat with us, and talked us through the six-course menu, made still more appealing by the chance to revisit two past glories from the Noble Cuvée range in the shape of the Brut vintage 1989 and Blanc de Blancs 1996. While also looking ahead at forthcoming vintages of Noble, as yet un-released.
Curiously enough '89 and '96 are two more vintages where with the benefit of hindsight we can say one was underrated, coming between the more acclaimed 1988 and 1990 releases, while one was seriously over hyped, as it still often is today, in the case of the 1996. (It was interesting to hear Jean-Baptiste Lécaillon confirm my long-held view that while originally 1990 was seen as the best of this trio and '88 the poor relation, in fact '88 is the wine that shines most brightly, followed by the '89 with '90, the least well-endowed of the three, albeit a fine wine in some hands.)
However, both the Lanson wines are rather good, its preferred non-malolactic style working well with the '89 vintage, and the wine even in 75cl format remains very impressive and near its peak (in magnum, it's simply superb), showing a lovely complexity, while the '96 still has the bright, racy acidity that's the hallmark of the vintage, but definitely hasn't fallen apart, like many other 96's.
Over the years I have sat through quite a few Champagne dinners and lunches where champagne is served right through the meal, and it is fair to say some the 'matches' devised are more successful than others. Refreshingly Dabbous himself said at the table that it wasn't really practical to match all the dishes on his specially devised menu to the champagnes and he thought the less challenging dishes, namely the "glazed barbecued Chilean seabass" (sometimes less attractively known as dogfish) and the "warm potato pancake with ham hock rillettes" were likely to provide the best matches with whichever champagnes they were served against. And this proved to be the case.
Avocado pine broth, though quite delicate, proved a challenge for the '89 it was served with, though the toasted pecans threw the dish a lifeline. The '89, some of which I kept back, fared better with Dabbous's signature dish "Nest Egg" as it warmed up in the glass and became more toasty, buttery with aromas of mocha coffee appearing as the wine evolved in the glass.  A 'breakfast' drink with breakfast?
The unreleased wines, both recently disgorged (May 2022) had received no dosage and were tasted towards the end of the meal, which was a bit of a challenge for them. The Noble 2008, paired with the Warm potato pancake with ham hock rillettes, was still pretty austere, showing very fresh, citrus acidity and lots of energy. A fine future prospect, but it wouldn't be a surprise if it isn't released for several years yet and there is a 2005 vintage (a ripe warm year) to follow the '04 that will be, one suspects, much more forward. And 2009 Noble, another warm year, was also made and could easily be released out of sequence, earlier than the 2008.
The 2012 Blanc de Blancs Noble was, contrary to expectations, much more forward than the 2008, and already showing some attractive mid palate grip and weight. Like other top champagnes from 2012 — even though it's all Chardonnay, hasn't been through malolactic fermentation and it's had no dosage in this sample — the beautiful balance of the vintage shines through making it more accessible than the 2008. It was a great peek into the future of Noble and these are two top wines to look forward to when they are released.
The wines & vintages: Chef de Cave Jean-Paul Gandon made all the wines featured from 1989-2012, the year he retired. The Brut style is typically around 70% Chardonnay to 30% Pinot Noir.
Noble (Cuvée) Champagne Brut 1989: — Crus: (Chardonnay) Avize, Cramant, Le Mesnil-sur-Oger, Oger, Chouilly; (Pinot Noir) Verzenay, Bouzy, Aÿ, Ambonnay. Disgorging date: January 1999 Dosage: 9g/L Brut
Noble (Cuvée) Champagne Blanc de Blancs 1996 Extra Brut
Crus: Avize, Cramant, Le Mesnil-sur-Oger, Chouilly Disgorging date: September 2021 Dosage: 3g/L

Noble Champagne Brut 2004 The current Brut release
Crus: (Chardonnay) Avize, Cramant, Le Mesnil-sur-Oger, Oger, Chouilly; (Pinot Noir) Verzenay, Bouzy Disgorging date: September 2021 Dosage: 6g/L Brut

Noble Champagne Blanc de Blancs 2004 The current Blanc de Blancs release
Crus: Avize, Cramant, Le Mesnil-sur-Oger, Oger, Chouilly Disgorged: Sept 2021 Dosage: 6g/L Brut

Noble Champagne Brut 2008 Zero dosage 'sample' not yet released. Crus: (Chardonnay) Avize, Cramant, Le Mesnil-sur-Oger, Oger, Chouilly; (Pinot Noir) Verzenay Disgorging date: 12th May 2022 Dosage: 0g/L Extra Brut

Noble Champagne Blanc de Blancs 2012: Zero dosage 'sample' not yet released. Crus: Avize, Cramant, Le Mesnil-sur-Oger, Oger, Chouilly Disgorging date: 12th May 2022 Dosage: 0g/L Extra Brut
This article was originally published by the drinks business and has been shared with permission.