Louis Thomas finds creative twists on crowd-pleasing dishes and a reliable by-the-glass offering at Caia in Notting Hill.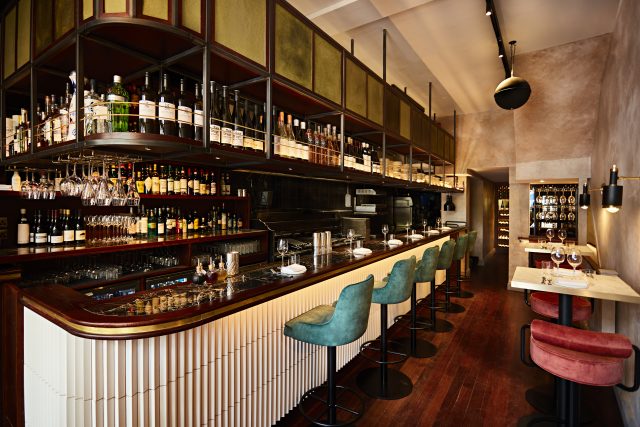 The first thing that hits you as you squeeze into the snug Caia, after the tight fit, is the wonderful hodgepodge of aromas emanating from the grill. But, rest assured, though there was a pleasing background smell of smoke, I did not leave feeling like I'd been kippered.
Another asset, so often drowned out in discussions about what makes a bar and restaurant good, was the acoustics. Such a confined space, with music blaring, chefs at the grill, and customers chatting, would normally be conversation killer, but, whether it's down to carefully-placed soft furnishings or the positioning of my table, it isn't here.
Perched atop my stool (you know it's a bar rather than a restaurant when you're on a stool, not a chair), my stomach sparked into life by the primal scent of open fire cooking and the promise of wine, I was eager to get cracking. With guidance from the waiters, I ordered.
To begin, crispy chicken skin topped with an emulsion of preserved lemon and nori emulsion. As much as I enjoy poultry crackling anyway, the additional concentrated blob citric acid, sodium chloride and glutamate on top took it to a whole new level. Though far from substantial, a little really did go a long way.
Almost as delectable was a beautifully plated assortment of crudités with cucumber labneh and a charred aubergine dip (topped with chilli oil) that was reminiscent of baba ghanoush, though not described as such. This duo conforms to what I wish to dub the 'double act' principle of dips: you need a straight man (in this case the cooling yoghurt) to balance out the bolder, more audacious party (the intense, smoky aubergine, with the lingering fiery heat from the oil, in this instance).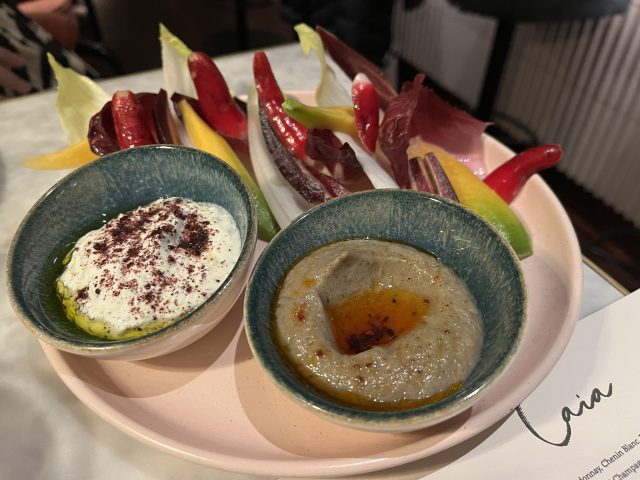 Accompanying these appetisers, a Swartland Chenin Blanc and a Cretan Assyrtiko from Lyrarakis. Of the two, I favoured the lean and clean latter. Crucially, both wines tasted as I assumed they would based off the menu, and this would prove to be one of the key strengths of Caia's by-the-glass list: you get what you order.
This solid start was followed by the favourite dish of the night: two thick cut slabs of charred char siu-glazed pork belly with house-made kimchi. The fat was rendered, the meat was tender yet firm, the glaze was perfectly set, and the kimchi added its textbook fermented funk and crunch. Perhaps it is too simple, but I don't really care when it tastes that good. Even my dining companion, avowedly averse to pork belly, was impressed.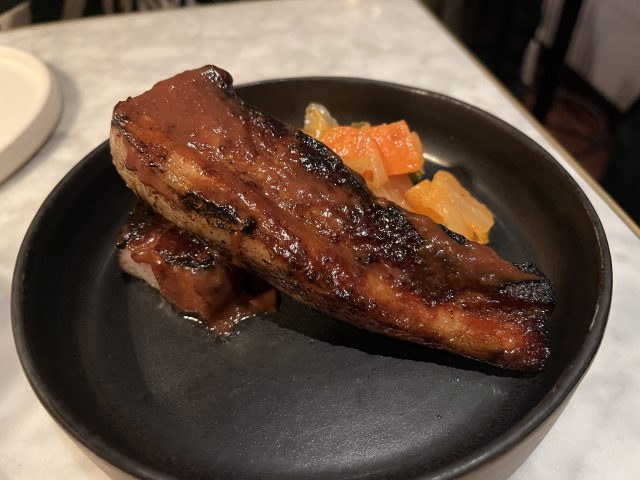 Of the two wines suggested, a GCM blend from Corbières and a Liatiko, once again from Lyrarakis, I would gladly return for a glass of either/both, but in this context I favoured the Cretan's brightness against the richness of the pork.
The only dud of the dinner came in the prolate spheroid form of the truffle and Montgomery cheddar mac & cheese croquettes, accompanied by a drizzle of hot honey. While fried to perfection, they proved that, as with people, it's what inside a croquette that counts. Bland, mushy, and with almost no hint of cheese or truffle, it was an unexpected wobble. Given the number of plates bearing pairs of the croquettes coming past, they're clearly a crispy, stodgy hit, but I would give them a wide berth when ordering.
Luckily, the next course of delica pumpkin with Tunworth cheese foam and Jerusalem artichoke crisps was a knockout success. Before I had even delved in with my spoon, the brassica whiff of the Tunworth had, after earlier disappointment, served as a timely reminder of what cheese can be. Though it had collapsed from a foam into a sauce by the time it reached the table, it was no worse for it, and accompanied the sweet, nutty pumpkin very well.
My colleague lamented that the fleshy form of the Jerusalem artichoke had been reduced to crisps, but I for one welcomed their textural contribution. My only critique would be that I wanted a slice of bread to mop up what was left. To pair, renowned Georgian winemaker Gogi Dakishvili's Orgo – an appropriately orange wine for an orange dish.
Doubling up on dessert, I found myself wishing that more restaurants had Caia's courage when it came to charring their sweet courses. Sure, we have burnt Basque cheesecakes and fruit that has been over-zealously caramelised, but I'm talking about proper, bitter char, not just a light toasting.
Reminiscent of a s'more, the toasted marshmallow with dark chocolate, graham cracker and Yorkshire rhubarb had the right level of bitterness and tartness to rein in what would otherwise be a sickly sweet dessert. It's not necessarily the sort of thing I might normally order, but it was fun, in a somewhat American way.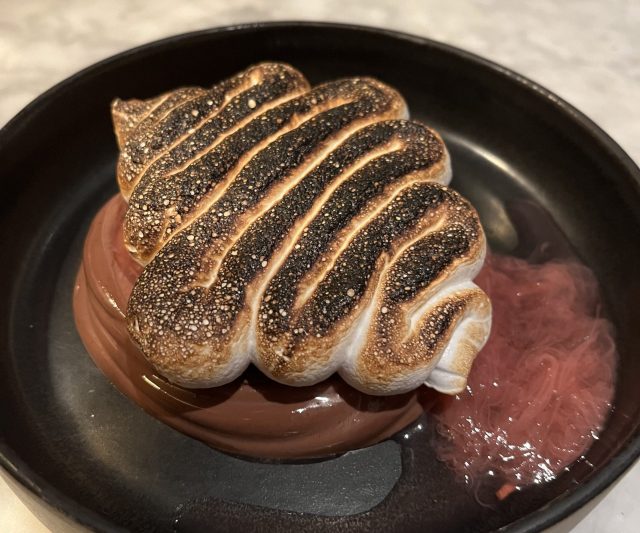 The more staunchly British offering was a chargrilled "rump" (as my colleague so accurately put it) of pear with nut crumble topping and a tonka bean créme anglaise. I might usually pass on a pear, having been afflicted with various wooly, flavourless specimens in the past, but this dish has made me reconsider my relationship with this fruit. Creamy, juicy, and intensely, well, pear-y, it gave me nostalgic pangs for a pear-filled childhood that I never lived. The skin was maybe a tad leathery, but it's all good fibre.
Of course, every good dessert needs something to wash it down with. In this instance, a 2020 Hetszolo Toakji and a 2003 Château de Malle Sauternes. The Tokaji's racing acidity and slight rye bread aroma worked pleasantly as a pairing for the pear, and the rich, fig compote quality of the Sauternes was especially good with the chocolate – I could have gladly settled for a glass of either for dessert.
Given how busy it was on the night I visited, Caia is clearly a popular neighbourhood spot, and I'm inclined to agree with the good people of Notting Hill. A relaxed atmosphere, accomplished cooking, a reliable selection of wines, and reasonable prices – if that's not worth making a slight foray out of the Zone 1 bubble for, I don't know what is.
Related reading: db Eats: Seven Park Place