Cognac brand Martell, part of the Pernod Ricard portfolio, has announced a four year collaboration with Alexandre Mazzia, chef at the three-Michelin-starred AM in Marseille.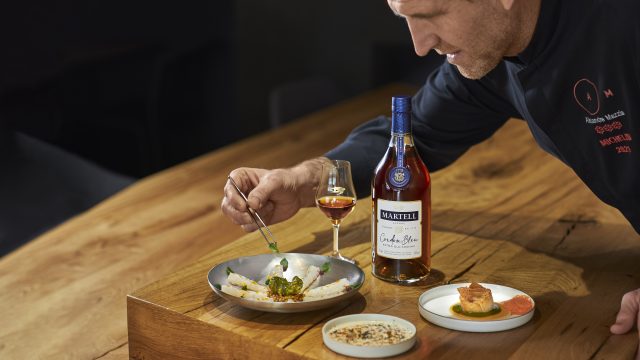 Mazzia, who trained as a basketball player before swapping the court for the kitchen, is glowingly-described by the Michelin Guide as a "true artist of a chef…[who] elevates the small-portion format to the realm of art". Though he spent his childhood in the Republic of the Congo, Mazzia is familiar with the Cognac region, having visited Courcoury, near Saintes, frequently. Now, he will be returning as part of a long-term partnership with the oldest of the great Cognac houses.
The collaboration means that Mazzia, who is celebrated for dishes such as trout roe and wild salmon with smoked milk and roasted hazelnuts, will define Martell's gastronomic identity, both at the brand's home of Château de Chanteloup and around the world.
Mazzia said of his new role: "Maison Martell embodies many of my own values. I am proud and honoured to join them in creating a new, unique and profound narrative around their cognac, while preserving the integrity of its exceptional savoir-faire"
An executive chef trained by Mazzia will be permanently based at Château de Chanteloup to oversee the day to day aspects of the partnership.
"Alexandre Mazzia and Martell Cellar Master Christophe Valtaud will work closely together to bring a singular and excellence-driven approach to gastronomy in Cognac, creating a unique experience, both sensory and emotional," added Maison Martell CEO César Giron.
Related news:
Royal Salute and Martell unveil pop-up boutique at Singapore Changi Airport