The six national finalists for the Roux Scholarship, one of the most prestigious chef competitions in the UK, have been announced after regional finals in London and Birmingham.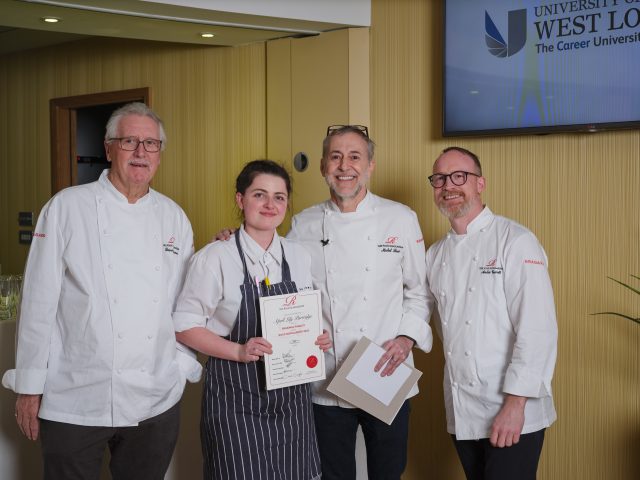 The contest was first established by brothers Michel and Albert Roux, widely-credited as the godfathers of French cuisine in the UK, in 1983. In recent years, it has been overseen by their sons, Alain Roux, chef-patron of The Waterside Inn, and Le Gavroche's Michel Roux Jr.
For the two regional finals this year, which took place on 22 February, 18 contestants were tasked with cooking their own recipe using a strip-loin of dry-aged Heritage beef, beef offal, Belgian endive, another side of their choice, as well as garnishes and a sauce, all within a £22 per plate budget. In the same two and half hour time frame they also had to prepare a dessert from a mystery box of ingredients. The dishes were then blind-tasted by a judging panel.
Judging at the University of West London, Michel Roux Jr. said: "It's always very challenging and gut-wrenching for some, but even those who didn't get through have left with a big smile on their faces and they can be very proud of what they achieved. In terms of the food, there was some fantastic choux pastry in the desserts. I think giving our finalists more ingredients in the mystery box has actually worked, in so far as we've had some fantastic desserts here today."
Alain Roux, who judged at University College Birmingham, said: "It was a really good mystery box and most finalists had a similar idea of serving a filled choux, with good flavours. Some were very simple with the use of chantilly. Personally, I was expecting something a bit more exciting, but we had two outstanding desserts."
The final, taking place in London on 3 April, will be contested between: Ben Champkin (The Newt, Somerset), Christopher Clarke (Core by Clare Smyth, London), Oliver Dovey (Baxterstorey, London), Sam Lomas (Glebe House, Devon), April Lily Partridge (The Ledbury, London) and Alex Rothnie (L'Enclume, Cumbria). Max Davies (Aizle, Edinburgh) is the reserve.
It will involve a surprise recipe, which the contestants will have to cook their take on, either classic or modern, over the course of three hours before presenting to the judges. The winner will receive the title of Roux Scholar, £12,000, and either a two-month stage at a three-star Michelin restaurant anywhere in the world, or the option of a bespoke training programme tailored to their interests and skills gaps.
Related news: Martell announces Alexandre Mazzia collaboration
This article was originally published by the drinks business and has been shared with permission.