International gastronomic network Chaîne des Rôtisseurs announced the UK winners for its Young Chef and Young Sommelier of the Year prize at a ceremony last week.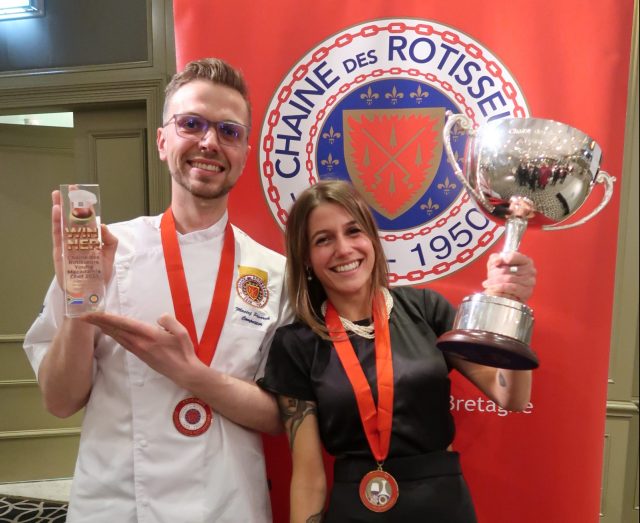 At the ceremony held at the Churchill Hotel on Friday night, a total of eight UK finalists for the chef and sommelier awards were assembled to discover who would be crowned winner.
The Young Chef title was claimed by 26-year-old Polish-born Maciej Pisarek, who works as the demi chef de party at The Savoy pastry kitchen. Second place went to Michalis Kashis (Harrods), and in joint third were Jason Ramplin (Chewton Glen) and Jacob Taglione (Grantley Hall).
Pisarek's winning menu, prepared at the Knorr development kitchens using a mystery box of ingredients, included: Monkfish tail with spring salad, aromatic mussels & herb mayonnaise, chicken breast stuffed with chicken thigh, chestnut mushrooms & macadamia nuts, with crispy skin crumble, potato fondant filled with chicken rillette, asparagus & classic jus, and raspberry tart with vanilla chantilly and raspberry coulis.
The Young Sommelier competition, held in The Savoys last month, which assessed wine knowledge, blind tasting ability and table service, was won by Italian Melania Battiston, from Medlar restaurant in Chelsea. Melina Soulavie (Helene Darroze at The Connaught) came second, and Tristan Wright (Chewton Glen) and Leonard Lievin (The Fat Duck) came third.
Battiston's top-scoring tasting skills were also rewarded with the Gerard Basset Tasting Trophy, a prize she previously won three years ago.
She credited 28-50 Group's Clement Roberts for his mentorship over the course of her career: "'He taught me everything I know – so when I found he was now one of the judges, I really had to raise my game. I needed to show him my best – it was quite challenging."
Pisarek and Battiston will now represent the UK at the international Chaîne des Rôtisseurs finals in Istanbul this autumn.
Reflecting on this upcoming challenge, Pisarek said: "I know I have a lot to do to achieve the best result, so I will be working hard with Nicolas [Houchet, The Savoy's executive pastry chef] and other inspiring chefs over the summer. And the Chaine will also be organising some placements for me."
Philip Evins, Bailli Délégué for Chaîne des Rôtisseurs GB, said: "Once again, we have had some exceptional young talent in this year's competitions, and we know how important it is to nurture the future stars of the industry. We wish them every success this autumn when they compete for us on the global stage. We have so much confidence in their talent we are sure they will smash it."
This article was originally published by the drinks business and has been shared with permission.