Louis Thomas learns an important lesson about pairings at MasterChef: The Professionals 2020 winner Alex Webb's restaurant at the InterContinental London Park Lane.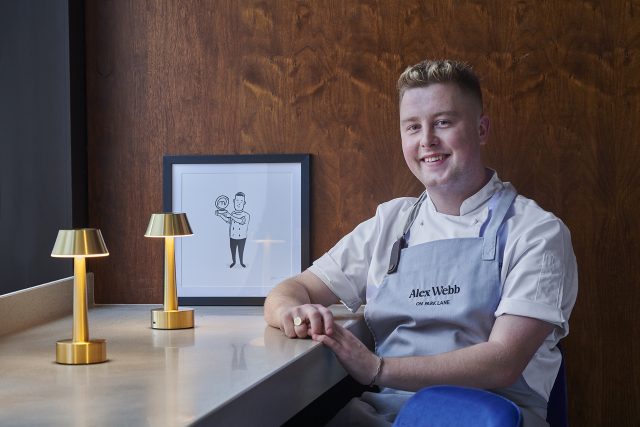 The evening began with a staunchly English glass of Hattingley Valley Blanc de Blancs 2014, and a wedge of toasted bread (Webb's late father's recipe) and whipped chicken butter. Whipped dairy, be it ricotta, goat's cheese or butter, may be somewhat overdone, but it tastes good, is easy to spread, and the addition of the chicken flavour is a nostalgic reminder of roast dinners past.
While the dining room was quiet for a Thursday night, save for a large, but tame party on the other side, it was not unbearably so. Myself and my dining colleague were sat side-by-side, as if we were subjecting each course to an interview for the role. The candidates for starters arrived shortly afterwards.
Mackerel and rhubarb is a combination that may bewilder the uninitiated, but makes perfect sense – oily fish offset by a wincingly tart vegetable. In his version, Webb chars the mackerel's skin, sacrificing its beautiful iridescence in the name of flavour, and, to turn a sour accompaniment even sourer, pickles the rhubarb. While the addition of crème fraiche and wild garlic looked fabulous, I would have been perfectly happy just with the fish, rhubarb, and accompanying croutons.
From the wine list, which had been changed just a week before, the pre-set pairing was an excellent glass of Domaine Muré Pinot Blanc Les Iris 2020. The Alsace tipple's flint aroma complemented the charred skin well, and the cool climate freshness effortlessly sliced through those omega-3 fatty acids.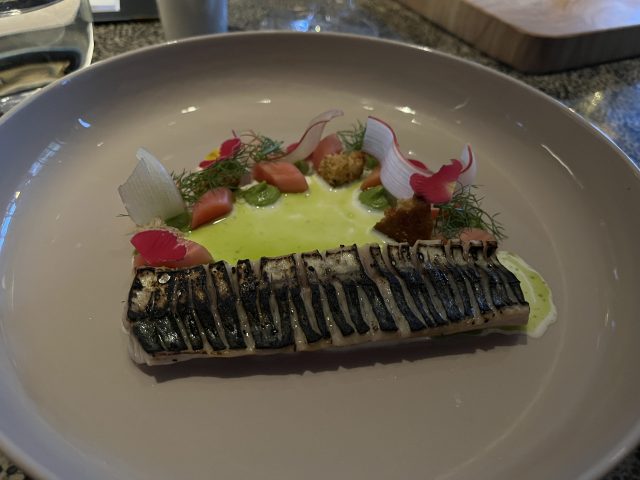 I did have slight pangs of jealousy upon seeing that my colleague's salmon and avocado (both of which are acceptable but unremarkable to me), was accompanied by a Sicilian-inspired fennel and orange salad that would have also worked very well with the mackerel – that, as the menu indicated, happened to be one of the dishes that won Webb the MasterChef: The Professionals title.
But there's no point in crying over missed fennel – the mains were soon delivered.
Steamed brill filled with a scallop and chive mousse, served with wild mushrooms, peas & a chicken and brill butter sauce (and a dollop of caviar, for good measure), a winning 'mare e monti' combination. As my colleague opted for the MasterChef winning chicken breast with burnt cauliflower purée, the suggested pairing was Thierry Germain Domaine des Roches Neuces Saumur Champigny. Red with fish is hardly unheard of, and I felt, in a half-heartedly post modern manner, that I might get a couple of paragraphs out of it for this review.
Unfortunately, I could taste the error in my ways when the delicate fish was lost against the the Cabernet Franc's relatively robust red fruit aromas, though it paired rather well with the sauce and mushrooms, and my colleague's chicken.
In a 'here's what you could've won' moment, we were offered a glimpse of the white wine option for the main: Les Préludes Mâcon-Villages 2020.
While it may be tempting to rue my own foolishness for risking it on red rather than opting for the more classical pairing of white, wallowing in self-pity over wine isn't a good look for anyone, and, quite honestly, I felt glad that I had lived a little and not played it safe. Having criticised Seven Park Place for opting for opting for an obvious White Burgundy to go with the quail, this was my rock 'n' roll, TV-out-of-the-window moment of pure gastronomic recklessness – perhaps I just need to get out more.
Besides, the (self-inflicted) pairing misfire with the main became a distant memory with the arrival of dessert, a bittersweet symphony of a dark caramel tart, which like a good crème brulée was very much on the right side of burnt, orange gel, kumquat and clotted cream ice cream washed down with a sensational 2018 Pieropan Le Colombare Recioto di Soave Classico that provided its own character of apricot conserve and toffee. The tart was rather overdecorated, with all manner of petals, disks and globules, but the flavour still shone through the garnishes, and I understand that most dining at a W1J postcode would expect some frills.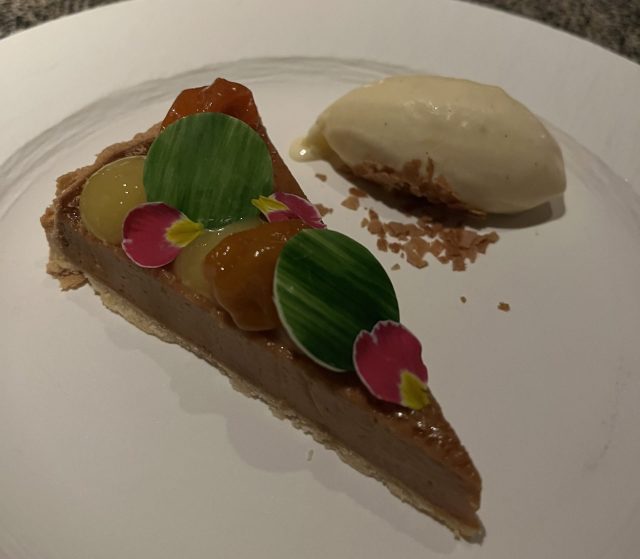 M'colleague opted for one more of Webb's MasterChef winning options: passion fruit parfait on a chocolate base with a Champagne sorbet. Their verdict on the pairing was that the Recioto got slightly lost against the dark chocolate – I suppose, given the Champagne sorbet, a traditional method blanc de noirs might have been in order for that dish instead instead.
This is the second time that I have visited Alex Webb on Park Lane, sort of. The first was last summer, when it was just a humble popup. At the time I found Webb's cooking, which involved a dessert of doughnuts and candy floss, a touch too playful. Perhaps I have become less jaded by fun in the intervening months, but the impression I get is that with permanent residency at the hotel, Webb has, aside from a few unnecessary flourishes, found his footing.
Related reading: WLC Eats: Caia, Notting Hill