"In person, the cavernous, mint-tiled atrium is simply breathtaking," wrote Francesca Carington in Tatler of the former Bow Street magistrates court, turned à la mode five-star hotel, restaurant, and warren of bars. She added: "Art Nouveau lanterns cascade from the glass roof and overstuffed banquettes in acid green and dark rose are the perfect spot for a clean, crisp cocktail." Opened in May 2021, the venue represented the first NoMad in Europe, taking cues from the now-closed New York original.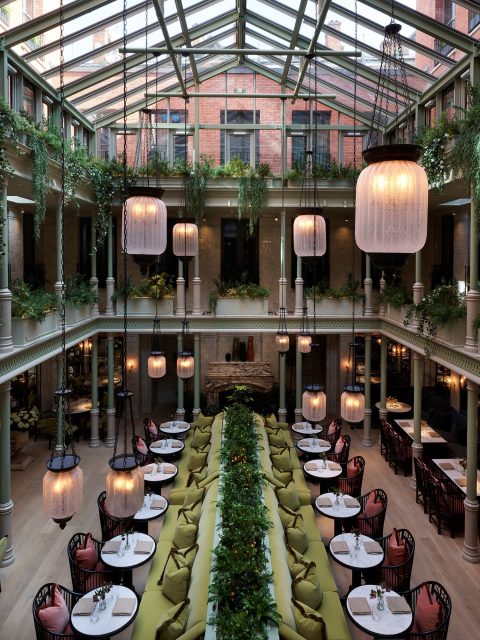 Design
The municipal vernacular of the site where Oscar Wilde was tried has been softened, the result, aided by distinctive personalities across the bars and restaurants who seem genuinely happy to be here, being that NoMad feels like a destination for pleasure rather than reverence. With its own slightly clandestine seeming entrance, Common Decency is the newest bar, where drinks by a team led by Leo Robitschek and Liana Oster play on unlikely ingredients such as mustard, the latter starring in the Bourbon, amontillado and mushroom enriched "Céline Dijon". Then there is Side Hustle in the building's former police station, also informed by Robitschek and Oster, for a celebration of Mexican distillate in the midst of Martin Parr's wonderfully satirical, vivid photographs.
Drinks
Bearing "The National" inspired tattoo, "we're half awake in a fake empire", Bella Babbit is the half-American, half-Swedish head of wine overseeing the "constantly fluctuating beast" that is the 1,000 bin list which she recently re-racked without losing a day of service. The once aspiring actress is particularly proud of the restaurant's "killer" Nebbiolo selection, approaching 100 references, which, like all wines, are available via room service too, ranging from the young Gattinara (Costa della Sesia, Travaglini) to Gaja Barbaresco 1961. Other wines include the magnum of Vincent Dauvissat Le Clos 1998, multiple top-flight produce from Coche-Dury, curiosities from Sadie, the litre of Oslavje by Radikon, a non-vintage Field Blend by Scholium Project, California (La Géante), a Coteaux Champenois by Emilien Feneuil, and a tempting if you're paying, rendition of Château d'Yquem given it comes from this reviewer's birth year (1980). Part of the collection of Cabernets from Napa's Silver Oak Cellars featured as part of the ongoing series of wine dinners.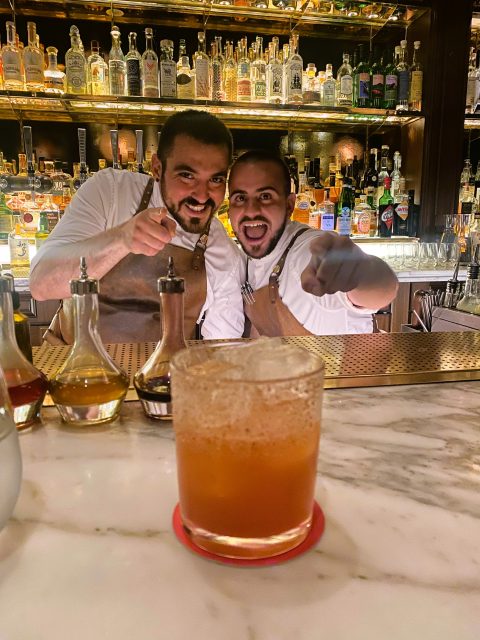 Given the depth of the list, "where the well-heeled classics rub shoulders with the next generation and lesser-known regions", Babbit, who admits to being, "one of those deranged people who love service", is happy to be seeing "more industry coming in".
Babbit's reach extends to the bars, where Listán Blanco from Tenerife (Envinate) is proudly offered. Also, expect to see canned wines such as the Teroldego from Elisabetta Foradori making its way onto the list and potentially into guestroom minibars.
Oddly, given her half-Swedish pedigree, only one Swedish drink in the form of Absolut Elyx vodka seems to feature in the restaurant, and, given the venue is striving to attract a savvy, international clientele who certainly have the appearance of being influencer trendsetters, absolutely no saké.
Dishes
Babbit mentioned that the new Lancashire-born chef Michael Yates (formerly of Northcote and Restaurant Martin Wishart in the UK, and from the Netherlands, Oud Sluis – RIP – though with no previous London work on his CV) is notably wine savvy, which is "wildly helpful". He certainly approved of the match of orange wine and ruddy prawns, in which skin contact Jura Savagnin (Domaine de La Pinte 2020 Sav'Or) worked with both the hefty R&B hip hop snap which it coincided with, being "buy U a Drank" by Yung Doc, lyrics of which include, "And when you lick your lips I get a tingling sensation", and two deeply blazing red grilled deep sea carabinero prawns grilled with smoked butter, grilled lemon and, given the quality of the piscine specimens, a surplus to requirements saffron aioli. The wine also met a "snack" of half a native blue lobster, tempura, adorned with pretty flowers.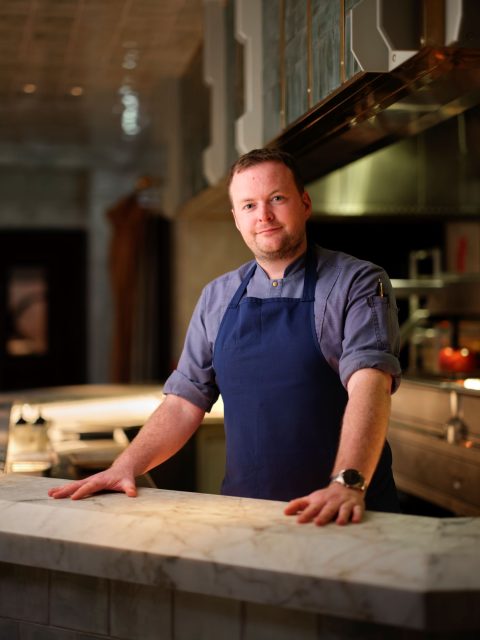 Next, the signature chicken from Creedy Carver farm which allows its birds four metres of space, which is decent by London human habitation standards, was served over two courses, showing much technique. First, confit legs with a tight-lipped "Caesar salad" creamed in anchovy sauce, with chicken skin pangritata met the very limited production, almond-scented Chassagne-Montrachet La Platière 2015 (Domaine des Terres de Velle) and musically, coincided with Labi Siffre's The Vulture, which could well have inspired Jamiroquai, and I suspect, caused me to eat faster. Part two of the course, the roast breast was brought to the table in a roasting pan to be admired before being carved, revealing a foie gras, black truffle and brioche stuffing. It was served with white asparagus and citrus stuffed morels, and a side of immensely impressive potato rosti featuring raclette and more black truffle. It met 2014 Barbaresco Paje from Roagna showing clean, generous fruit captured in a crisp profile, served by Coravin and then later poured uninhibitedly in a bold Nude Stem Zero Elegant Red glass. A wine emblematic of the success of the mission of Babbit and her former associate, Amber Gardner, being: to banish, as much as possible, "flabby, generic reds" from the list.
Finally, with a pretty strawberry sorbet with frangipane, Babbit served agile, biodynamic Jurancon from Domaine de Souch Cuvée Marie Kattalin 2018, a Gros and Petit Manseng and Courbu aged in old oak acquired from the late Didier Dagueneau, "Wild Man of Pouilly". And with a confident cheese selection taking in Devon Blue and, unpasteurised, Elrick Log, St Jude and Westcombe Cheddar, albeit served with rustic bread, not crackers, making this too heavy a moment after an already lavish meal, she poured Marsala Superiore Oro 2016 Grillo from the uncompromising late Marco de Bartoli.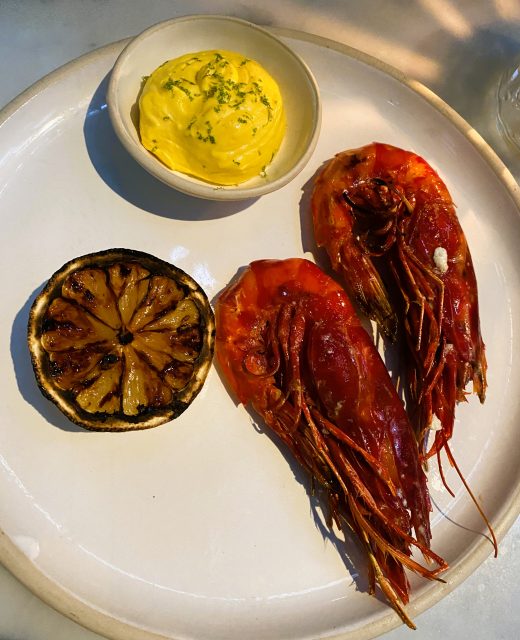 Last Word
Approaching two years from opening, with an additional bar, larger cellar and ambitious team, the good-looking NoMad continues to magnetise. Hopefully accompanied with gentler music at a lower volume given the guests may well be feeling reduced by that stage of the weekend, take note that Yates just launched a Sunday Roast, replete with "endless Yorkshire puddings and gravy" noted Babbit gleefully, fuelled by "a strong carafe list".

Best For:
"Nomadic" wines section for field blends and off-the-beaten-track varieties
Nebbiolo
The NoMad Chicken Dinner
The Sunday Roast
Value: 93, Size: 95, Range: 95, Originality: 97, Experience: 96, Total: 95.2
28 Bow Street, London, WC2E 7AW; 020 3906 1600; info.london@thenomadhotel.com; thenomadhotel.com
To read Blyde's previous review of NoMad, click here.
This article was originally published by the drinks business and has been shared with permission.