An umpire at Wimbledon had to remind spectators over the weekend about the etiquette of not loudly popping open bottles of fizz during matches.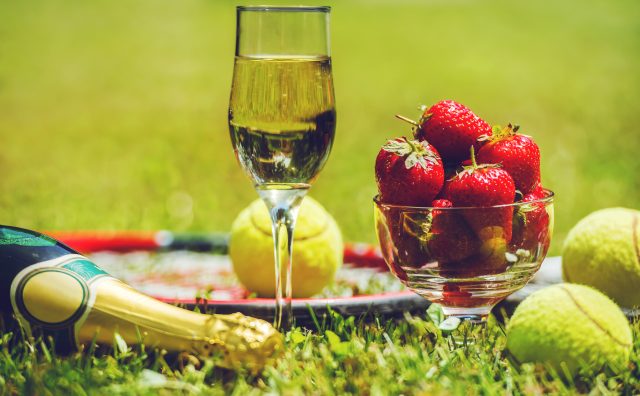 During Sunday's match on Court 3 between Anastasia Potapova and Mirra Andreeva, umpire John Blom heard a pop come from the crowd and announced over the microphone: "Ladies and gentlemen, please, if you're opening a bottle of Champagne, don't do it as the player is about to serve. Thank you."
"Ladies and gentlemen… if you are opening a bottle of champagne, don't do it as the players are about to serve"

The most #Wimbledon warning ever from umpire John Blom pic.twitter.com/57GBixnM4U

— Wimbledon (@Wimbledon) July 9, 2023
Certainly less rowdy than cries of "come on, Tim", this genteel example of crowd trouble, dubbed by one pundit as "the most Wimbledon warning I've ever heard", has been met with amusement on social media:
"This has to be the most 'top 1%' issue I've ever heard of."
"Sorry, but dealing with the cork pops is part of the game."
One user devised a game, set, match solution to the problem:
"I think there should be a yellow/green/red light system to get ready/pop/pour, serve and drink."
Others questioned the umpire's identification of the offending bottle:
"Was the umpire sure it was Champagne?"
Given that Lanson is the official Champagne of the Wimbledon Championships, and has been associated with the tennis tournament for almost 50 years, it is possible that it was indeed fizz from the French region.
It should be noted that popping corks to open bottles of bubbly is generally discouraged outside of Wimbledon too, both from a safety perspective, and because it might be seen as uncouth. The best method is to grab the cork securely and gently twist the bottle to release it with a slight hiss.
Spectators do need to be careful when bringing drinks to a match – one man in the stands had his glass of Pimm's ruined by a lob from Czech player Jiri Lehecka.
Lehecka's return ended up in a spectator's glass of Pimm's

One-in-a-million occurrence pic.twitter.com/HOpVQUvkPM

— Bastien Fachan (@BastienFachan) July 10, 2023
Tennis players themselves are no strangers to enjoying a drink off the court. To read the drinks business' list of 10 best Wimbledon drinks serves, click here.
This article was originally published by the drinks business and has been shared with permission.