A fresh, flavourful menu from a pioneer of 'cryo-concentration' alongside a developing wine list ensured a memorable trip to Pavyllon for Douglas Blyde.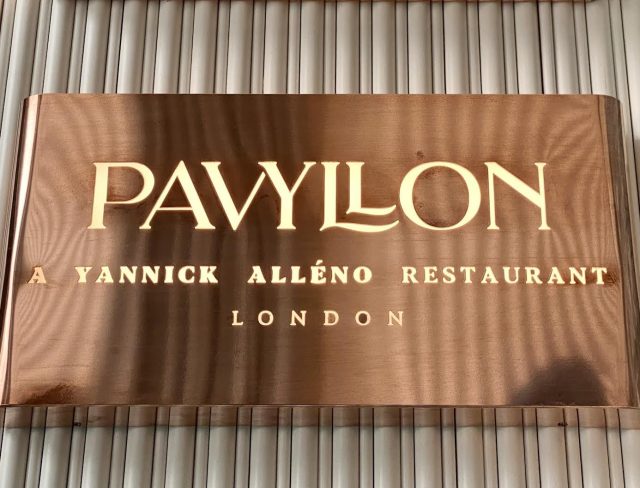 "Whilst the menu is recognisably Alléno's food and rooted in French gastronomy, dishes draw inspiration from seasonal British produce, making this a unique proposition," appraised Square Meal of Pavyllon, Park Lane.
Here, the cuisine is deeply flavoursome yet somehow weightless, masterminded by executive chef, Yannick Alleno, whose philosophy is to care about the health of his guests. Having worked under four Meilleur Ouvrier de France title-holding chefs, Alleno's realm reaches to Morocco, Korea and the UAE. In total, he maintains 15 Michelin stars over 14 restaurants, with Alléno Paris awarded three stars after seven months, while Le 1947 at Hôtel Cheval Blanc, Courchevel also holds this accolade.
Design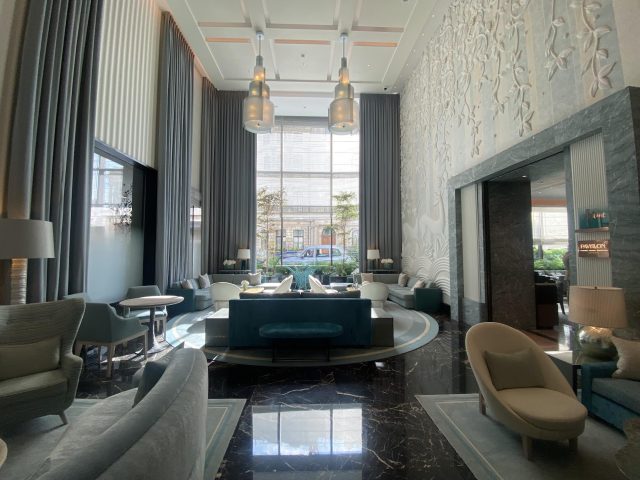 Formerly the blood-coloured Amaranto, where the arm of this reviewer's chair once fell off during a launch night meal, the dining room and bar of Four Seasons, Park Lane has received a complete, cleansing rejuvenation. Under the guidance of designer, Chahan Minassian – former European Creative Director of Ralph Lauren – the marine palette is similar to Pavyllon, Paris, being the least formal of the Alleno concepts. Tactile fabrics meet ten types of marble and a feature ceramic wall. By contrast, the remainder of the ground floor of what is the world's oldest Four Seasons hotel, now feels hefty no matter how many sunflowers optimistically adorn it.
If dining alone or a deux, the best vantage is at the 30-cover counter overlooking the fully operational, properly extracted kitchen. Further into the venue is Bar Antoine with its oval shaped counter, for mushroom-foam espresso martinis, and "Allenotics" hand-crafted tonic mixers. There is also a terrace, tea lounge, and, soon to be revealed, suite of private dining rooms.
An obsession with detail extends to the lightweight carbon serving trays intended to ease the burden of the colour-coordinated front-of-house team while retaining form under the heat lamps of the pass.
Drinks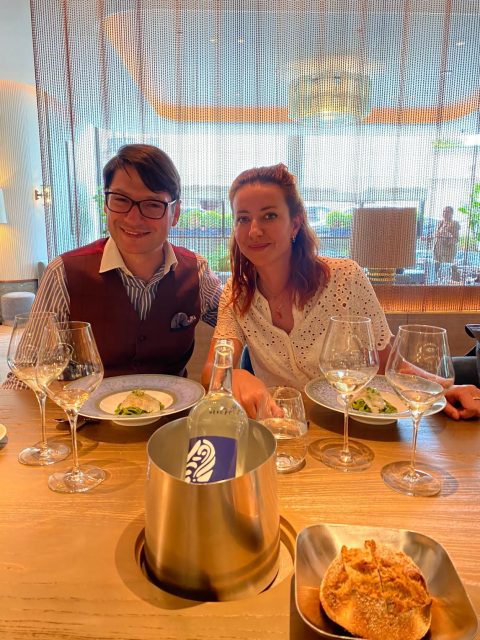 Born in the vicinity of Lyon to a family from Brittany, and identifying as Parisian, the polished and entertaining head sommelier, Baptiste Beaumard scooped "Best Apprentice in Paris" at Le Meurice, though his vinous career actually started in London at Trinity, Clapham. He later became head sommelier at Clarette, Marylebone, followed by the wine Club at Ten Trinity Square.
Although wines from L'Hexagone dominate, the largely italicised list shows curiosity, hence the presence of amber Rkatsiteli from Georgia (Orgo), and Austrian old vine Blaufränkisch (Weingut Moric). A few verticals are tentatively emerging, including multiple editions of Krug Grande Cuvée, Georg Breuer Rottland Riesling, Antoine Sanzay Saumur-Champigny La Paterne, Gattinara, Travaglini Tre Vigne, and Mastrojanni's Brunello di Montalcino, Vigna Schiena d'Asino.
Prices range from £38 for a bottle for Coda di Volpe, Cantina Vadiaperti 2021 (representing a meek £20 mark-up) to Domaine de la Romanée-Conti La Tâche 2017 subject to a £17,000 mark-up (eat the rich!), via Petrus 1998, with its £13,500 margin.
Given Alléno has made over 30 culinary voyages to Japan, and, with Yasunari Okazaki, oversees the 12-seat L'Abysse, one of the most acclaimed Japanese restaurants in Paris, sake also features. Running to 18 examples, of which five are available by the 80ml glass, sakes include the evergreen sommelier favourite, Keigetsu Takumi "John" – Tosa Shuzo. The selection is overseen by assistant head sommelier, Andrea Strocchio, formerly of Gordon Ramsay at Royal Hospital Road, who holds the Sake Sommelier Association Diploma.
Over the course of our lunch, Beaumard showed a fondness for wines from old vines and indeed vintage 2021, pouring no fewer than five wines from this year.
Dishes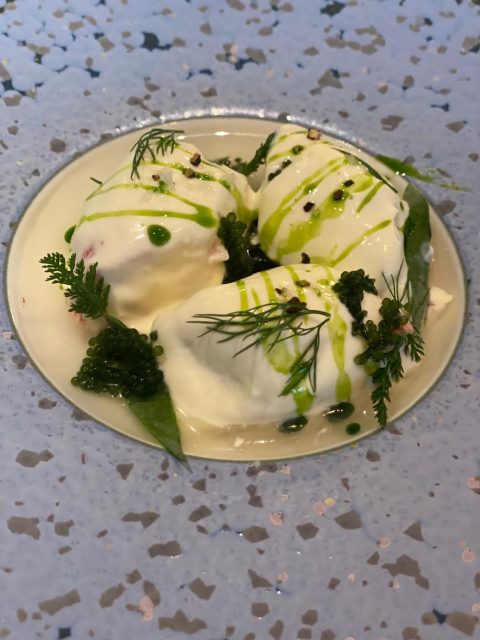 Served on blue-green Limoges porcelain, dishes are enacted by the brigade of head chef, Benjamin Ferra y Castell, who previously worked for Alléno in Dubai, followed by a year in Paris. These are often explained by Giovanni Gerardi, who is studying photography.
Alongside bread and Oxfordshire butter, "because we can never start without bread and butter," said Gerardi, Beaumard poured 2019 base "Invitation" by Huré Frères', "because you are my guest." The Premier Cru Champagne from Ludes, subject to a mild dosage, bore notes of green apple. As cute, crumbly Mimolette tartlets followed, then a polenta flatbread featuring welcomingly aromatic black garlic and curry, Beaumard mentioned, owing to the changing climate, he believes the future of Champagne "will be still."
Next, king crab with "farmhouse" cream, sage, spherified dill oil and Tasmanian pepper with its gently escalating heat, Beaumard chose old vine 2021 Sylvaner from Ostertag, a domaine founded by artist turned winemaker, André Ostertag, now managed by son, Arthur. "It comes from one of the first biodynamic thinkers," said Beaumard of the leafy, textured wine which even managed to deal with the dill.
With what Gerardi called "taste of the sea", featuring meaty oyster, trout roe and caviar, and lemon zest, Beaumard chose Vincent Gaudry's Sancerre Le Tournebride 2021, "to highlight the marine nature of the dish." Although less interesting a wine than the Sylvaner, the cool match was meticulous.
With al dente "noodle-like" pasta according to our guest, Masha Rener, executive chef of Lina Stores, binding, perfectly, a pesto of small, southern French pine nuts, topped with langoustine tartare, and a little Piment d'Espelette, Beaumard selected Leirana's accomplished, richer style of Albariño (2021) from a four-hectare plot of 40-70-year-old vines facing the Atlantic.
With "modern beef fillet stroganoff" featuring Lake District beef, pomme allumette-like crispy potato, and basmati rice infused with fresh dill, Beamard poured the oak-free, juicy, again old vine Daniel Landi's Las Uvas de la Ira (or The Grapes of Wrath) 2021 from Sierra de Gredos, south of Madrid, in a Lehmann glass produced in homage to Gérard Basset.
The final savoury dish, roast crown of pigeon, with chicken liver on toast, and a wild dill purée and, interestingly, a Lore by Laphroaig gel, Beaumard went for a "traditional pairing of Syrah from granite" in Emmanuel Darnaud's 2019 La Dardouille Saint-Joseph. "Dardouille takes the sun all day – you can feel the intensity of the vintage," said Beaumard of the location.
"Wild strawberry, underneath a pomegranate veil" included a meringue slightly sweetened with birch sap rather than conventional sugar. With this, Beaumard chose a cider crafted from no fewer than 17 varieties harvested from supposedly 300-year-old trees in the form of Poire Granit 2022 by former Arpège sommelier, Eric-Bordelet 2022. "The Krug of pears," said Beaumard. A smart, tart match.
The final wine was the vin doux naturel Grenat Rasteau by Domaine La Luminaille, served with an "a la minute" chocolate soufflé flambéed with Amaretto. Given the slight tannin and coolness of serve, the wine, thankfully, left the palate fresh, even after so many dishes.
At this point, Strocchio, whose talents also extend to tea, having been certified by the UK Tea Academy, arrived to proffer a high-altitude oolong from Taiwan's Alishan Range, apparently charcoal baked over an entire year.
Last Word
Despite fully formed, rich flavours, in part thanks to "extraction", a technique Alleno pioneered, particularly for sauces, "cryo-concentrating" an ingredient to enhance its flavour resulting in a lower payload of sugar, salt and fat, we left Pavyllon feeling operationally fresh. Matches alongside substantial components had been agile, although we would prefer fewer appearances of dill, a herb which frankly slays the nuances of wine, on future menus. Finally, though, dill or no dill, the oldest Four Seasons in the world has one of the newest, coolest restaurants in town with an erudite, ambitious team to propel it.
Best For:
The developing wine list
Set lunch
Sake
Michele Lombari's cocktails crafted in collaboration with the kitchen
Value: 90, Size: 94, Range: 92, Originality: 91, Experience: 98; Total: 93
Pavyllon London – Four Seasons Hotel, Park Lane, London, W1J 7DR; 020 7319 5200; pavyllonlondon.com
This article was originally published by the drinks business and has been shared with permission.