A bar owner who built a mobile pub in an ambulance in just four days during the Covid lockdown has won a £10,000 eBay award.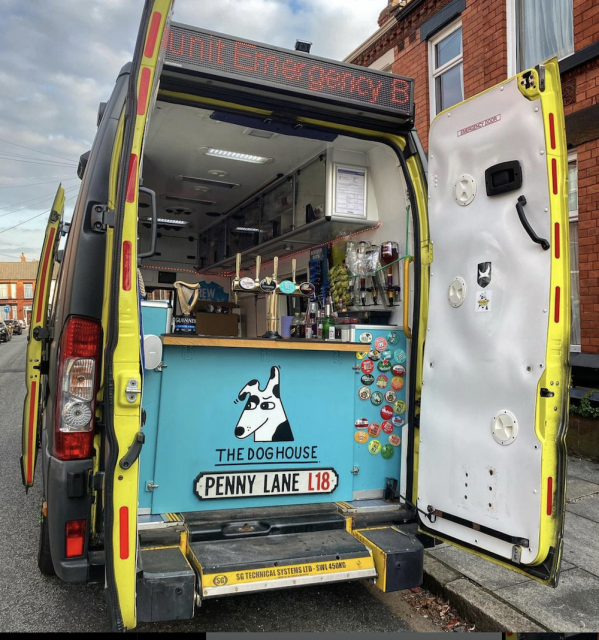 Paul White won the Van Conversion of the Year award after his wife Clare applied to the award for him, as she believed he deserved recognition for his work during the pandemic.
The Liverpool-based couple beat hundreds of other conversions to win the award, including seven other finalists and winners. It was judged by George Clarke, who presents the television programme Amazing Spaces that celebrates such construction projects.
When the pandemic began and the couple's Dog House bar, located near to the historic Penny Lane in Liverpool, had to close during restrictions, White quickly created the mobile bar in a matter of days to bring booze to punters.
He said: "One thing you couldn't get in lockdown was freshly pulled pints, so the van allowed us to visit our regulars, while spreading a bit of joy.
"It also allowed us to pay our staff in full while the bar was closed and they were furloughed. It was so lovely to see neighbours buying each other pints to say 'thank you' as they were high risk so unable to go out."
The ambulance was a perfect vehicle as it offered enough room for the equipment required to get the mobile pub working effectively.
White said about the bar conversion "we wouldn't have survived without it" and the bar "kept us afloat" during the Covid restrictions.
He said: "We were able to source most of the parts from eBay, such as the solar panels, the lithium batteries, and the electrics. It made a massive difference because we needed everything fast so we could get out and see our regulars and other locals."
Speaking about judging the awards, George Clarke said: "It's quite amazing how a simple, humble van can actually save a business and the staff's livelihood.
"He hasn't gone over-the-top, he kept it functional, getting what he needed from eBay and having it up and running and serving the community in just four days, which is amazing!"
This article was originally published by the drinks business and has been shared with permission.