Douglas Blyde pays a visit to Oxfordshire's Aynhoe Park, home to "remarkable debut act" The Orangery at RH England. During his visit, he tastes the "snug" wine selection overseen by buyer Cassidy Henderson, and revels in a selection of dishes grilled over wood.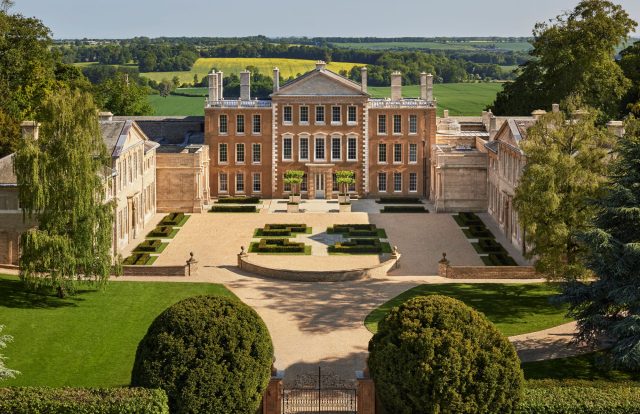 "American-based upmarket furniture brand RH (formerly Restoration Hardware), recently ventured across the pond and moved into the 73-acre Grade I listed landmark (a category which includes Buckingham Palace)" wrote Condé Nast Traveller's Zahra Surya Darma of the regenerated Aynho Park, while Square Meal instructed, "expect some pretty modern, live-fire cooking that trends towards boho New York style dining … enhanced by the presence of admittedly gorgeous RH furniture."
Design
In deference to the previous owner and fanatic of whimsical taxidermy, James Perkins, who ran Aynhoe Park as an events venue popular with celebrities such as Noel Gallagher, a phantastic full-scale replica of the "Aynhoe Unicorn", echoed in artist, Rico White's painting, takes pride of place in the entrance hall. Inscribed above are the words, "The Unicorn. A wild, untameable animal of great strength, optimism and courage", then "RH England. A celebration of history, design, food and wine born of curiosity, creativity and what some may call insanity."
Realised in tones ranging from cream to caramel, and in mohair, rounded wood, marble, and artisan glass, and always discretely priced, exquisite, tactile homewares from the catalogue of the Californian-founded RH span some 57 rooms of this handsome pile. With roots, in parts, to 1645, with aspects later embellished by Neo-Classical architect, Sir John Soane, whose work is celebrated at the on-site exhibition within a whispering gallery, the mansion overlooks Capability Brown parkland, with, beyond the ha-ha, a herd of white deer originating from Fife.
As in excess of a pallet's worth of Chilterns sparkling wine, Hundred Hills flowed, alongside killer Martinis poured by Alessandro Palazzi, the reopening of the manor occurred one warm summer's night in early June. Global stars and curious locals were treated to a marathon DJ set by Idris Elba while Ellen DeGeneres danced alongside.
At the opposite end to the library, where Vitruvius' 1521 first edition of "De Architectura Libri Dece" may be viewed, and just beyond a dedicated wine lounge, is The Orangery, its 22 feet tall ceiling rigged with no fewer than 567 glass pendants illuminating marble tables.
Drinks
Wine buyer, Cassidy Henderson previously worked as assistant sommelier at the Michelin-starred counter restaurant, Beckon, Colorado, having managed Colorado State University's research vineyard. At RH England, she oversees a snug selection, largely arranged by grape, ranging from the entry-level 2022 Godello Pazo da Maga Karma do Sil from Ribeira Sacra, to 2012 Roagna Crichet Paje, both featuring mark-ups of two and a half times the retail price.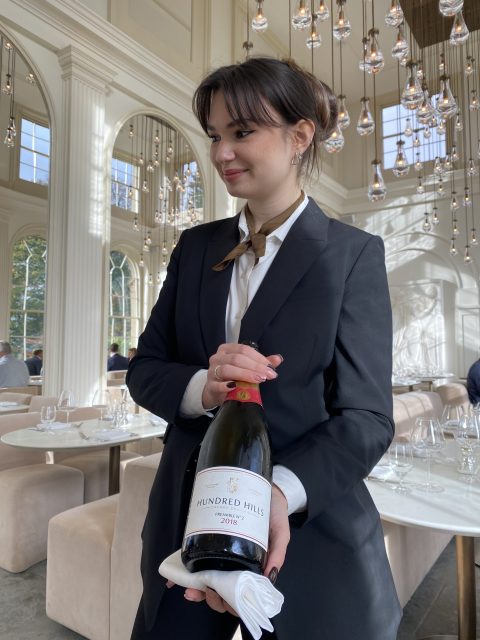 Given both Henderson and RH have North American origins, USA picks might include Trousseau Noir 2021 by Jolie-Laide, ranging to Raen Royal St. Robert Cuvée Sonoma Pinot Noir 2016, the latter albeit subjected to a curious five times mark-up. Nude Stem Zero Elegant glasses dovetail gracefully into the refined aesthetic.
Dishes
Realised by a brigade led by executive chef, Jamie Cronin, dishes evoke those served at RH's acclaimed guesthouse and dining room in the Meatpacking District of New York. To begin, Henderson paired the citrus and coconut-scented Hundred Hill Preamble 2018 with the buttery of texture, Imperial Kaluga caviar-laden lightly grilled avocado, while the luxuriant 2021 Mullineux Schist Chenin Blanc from Swartland brought richness to a sliced French chicken breast from the feature rotisserie, accompanied by individually dressed salad leaves.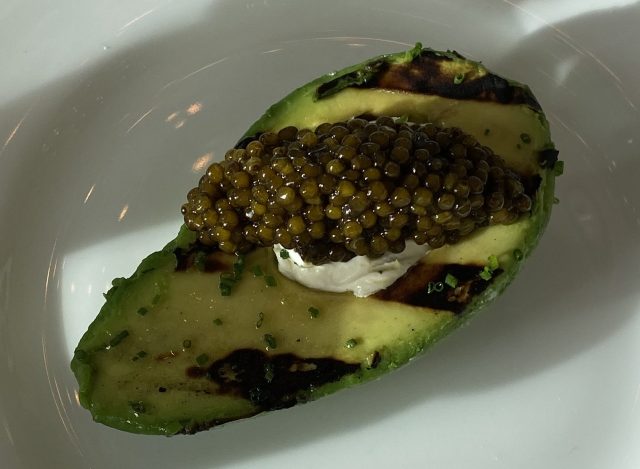 All three main courses met the wood-fired grill. The classy Chenin continued with juicy seabass, served whole, a presentation which can startle some delicate guests, confided our waitress. Beyond its handsomely charred façade, and thinly sliced, blushing, Westholme Australian wagyu ribeye, gaining sweetness from its secret marinade, was outstanding. With it, Henderson recommended a particularly popular wine with her team, being the 2020 Land of Saints Merlot tempered with Petit Verdot 2020 from Santa Ynez Valley, Santa Barbara. The generous dish of hen of the wood mushroom layered over crisp, rosemary-flecked potatoes, was another deeply comforting, red-wine-friendly highlight.
Finally, with a classic, silken butterscotch brûlée, Henderson chose the "absolutely amazing" Mylitta Late Harvest Dobogó Tokaji 2019, with the sweetness of the wine not overpowering that of the brittle of cap dish.
Last word
Tailored and upmarket, with a delightful team, from valet to librarian, and Henderson herself, and luscious dishes, The Orangery at RH England is a remarkable debut act. We look forward to returning to sampling the grand property's other restaurants, including the seasonal loggia, and forthcoming conservatory.
Best for
English sparkling wine
Wood-fired dishes, including three chicken dishes
Caviar
Heritage, reimagined
Pristinely displayed covetable homewares
Value: 92, Size: 82, Range: 92, Originality: 96, Experience: 97; Total: 91.8
The Orangery at RH England – Aynhoe Park, Aynho, Banbury OX17 3BQ; 01295 585700; aynhoparkhospitality@rh.com; rh.com/gb/en/england
This article was originally published by the drinks business and has been shared with permission.