Acclaimed Portuguese chef Nuno Mendes will opened new restaurant and neighbouring bar in Largo de São Domingos, Porto's historic centre, this week.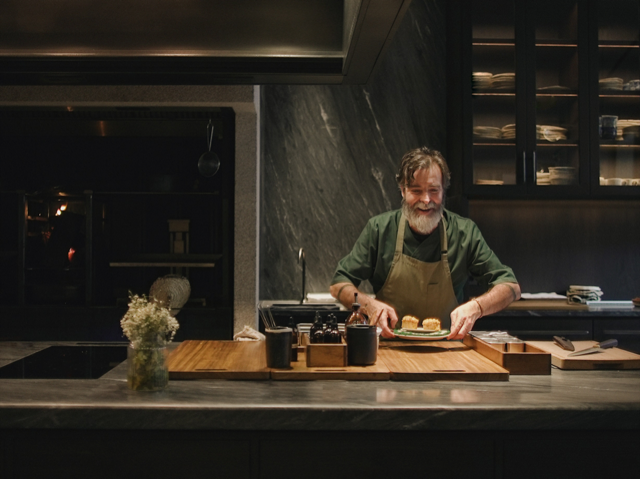 Though Mendes is from Lisbon, which his London restaurant Lisboeta makes clear, he has a strong connection to Northern Portugal through his mother's family, and both the restaurant (Cozinha das Flores) and adjacent 12-seater bar (Flôr) will draw on the region's gastronomy and oenology. Both were designed by Space Copenhagen, which is also involved with Mendes' sister project, The Largo, due to open later this year.
Cozinha das Flores is not just, as Mendes put it, "a true dialogue with the city", but also a dialogue between old traditions and new techniques. Among the signature dishes that will feature on the menu is 'Turnip Natas' – inspired by the famous custard tarts, but with a creamy turnip custard topped with fresh caviar instead of the more typical sweetened filling. 'Giant squid noodles with white beans and cod tripe stew' combines regional ingredients to create a dish that promises to be quite unlike anything else. As for dessert, the one that means the most to Mendes is 'Milk', which harks back to his childhood working on a dairy farm with his father.
Given Porto's status as a member of the Great Wine Capitals Global Network, the wine list also draws on Northern Portugal's viticultural output. Historic producers, such as Niepoort and Luis Pato, sit side by side with newer brands focused on low-interventional styles, including the likes of Paraíso Natural and Mateus Nicolau de Almeida.
Flôr's selection of cocktails has been developed by mixologist Tatiana Cardoso. One such drink, called 'Clichèd', plays upon various stereotypes of Portuguese cooking, combining gin, coriander, apple, amaranth and cod. Cardoso used a rotovap to extract the essence of the fish, which is said to bring a slight salinity to the drink.
Mendes said of the new openings: "My hope is that both Cozinha das Flores and Flôr will become an integral part of the city of Porto, a 'home' for both locals and visitors alike; a welcoming, convivial and bohemian experience suitable for anytime of the day or occasion. We've given a lot of thought to our offering and space, but I really would love our guests to come out of Cozinha das Flores and say, 'man, this place is fun!'…I believe one of the most meaningful ways to connect to a place and its people is through food and drink: our aim with Cozinha das Flores and Flôr is to really capture the essence of the region and strike a balance between creativity and authenticity."
In related news: WLC Eats – Lisboeta
This article was originally published by the drinks business and has been shared with permission.