After a turbulent year, Hong Kong  bars are trying to reset themselves and adapt to the new changes. At the same time, there are new players joining the scene to provide interesting drinking experiences to guests. From eccentric Japanese izakaya bars to Korean Sool-jip, these are the latest venues to check out for a drink in Hong Kong.
Aubrey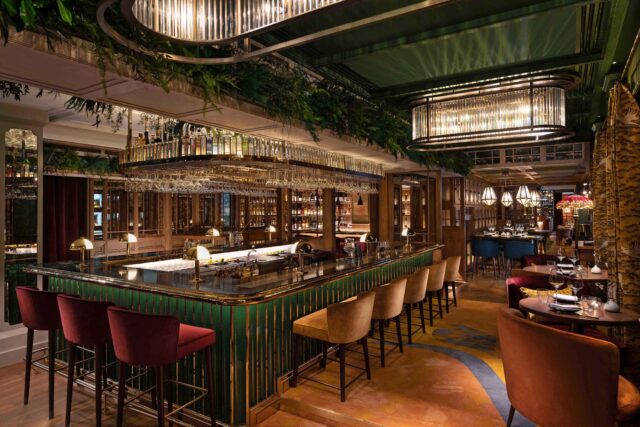 Maximal Concepts and Mandarin Oriental, Hong Kong join forces to create the brand new Japanese izakaya concept The Aubrey, located on the 25th floor of the hotel. Encapsulated the vibe of Japanese izakayas in Ginza, Tokyo, the outlet places a strong emphasis on the bar programme, which consists of three bars that are led by Devender Sehgal, former bar manager at Otto e Mezzo Bombana.
The Main Bar offers a core selection of Highball and Chuhai cocktails, a signature cocktail menu inspired by the game of chess and a rotating selection of three seasonal cocktails based off a singular Japanese ingredient.
The second bar is the four-person Omakase Cocktail Bar which will take guests on a drinks journey across Japanese spirits and flavours. The third bar – The Champagne and Sake Bar – will feature the age-old tradition of oysters and champagne. The champagne list comprises 55 references, mostly focused on smaller growers, including the house label, which is produced by Hostomme from Chouilly. In addition to Champagne, the saké list is carefully created with about 25 labels (with 7 by the glass options). Ranging from modern classics, aged, seasonal, limited to rare releases, the list showcases a full variety of flavours sake can produce.
The kitchen is helmed by Chef Yukihito Tomiyama, a Japanese national most recently at the one Michelin-starred Shinji by Kanaseka in Macau. Specializing in traditional Edomae sushi-making techniques, guests will also appreciate the sushi and sashimi skills of Chef Tomiyama and his team. Other dish highlights include robata grill and tempura.
Address: 25th Floor, Mandarin Oriental, Hong Kong