As outdoor hospitality reopens in England today, we've rounded up the best wine-focused restaurants in London, as featured in Wine List Confidential, that are welcoming guests once again.
While the weather may not have got the message, restaurants, pubs and bars with outdoor space can once again welcome diners in England from today.
Many have invested sizable sums in new outdoor seating, complete with marquees and heaters, while others are taking advantage of newly pedestrianised streets.
Here's our round-up of restaurants reopening in London this week that also featured in last year's Wine List Confidential guide, profiling the best wine-focused eateries in the capital.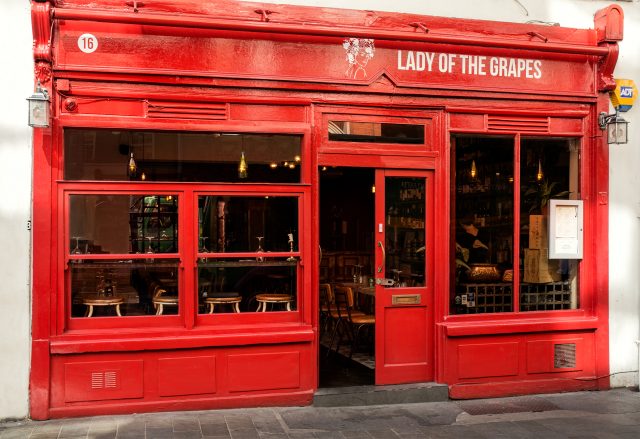 What: Owned by Carole Bryon, Lady of the Grapes showcases organic, biodynamic and natural wines from small producers, with 80% of the wines on the list made my women.
When: Lady of the Grapes is opening its terrace today (12 April). Opening times are: Monday-Thursday 4pm to 11pm, Friday-Saturday 12pm-11pm, Sunday 1pm-10pm.
Where: Covent Garden
Number of covers: 20
Food menu: Executive chef Eliott Buchet has devised a new menu of small plates, which include pea royale, roasted asparagus, glazed turnip, fresh peas and mint oil; cured monkfish, pickled pear, celery gel, walnut and wine soup; homemade smoked veal pastrami, baby beetroots, parsley ketchup, mizuna, red fruits and beetroot juice; as well as a large selection of charcuterie and cheese.
Lady of the Grapes, 6 Maiden Lane, WC2E 7NJ, London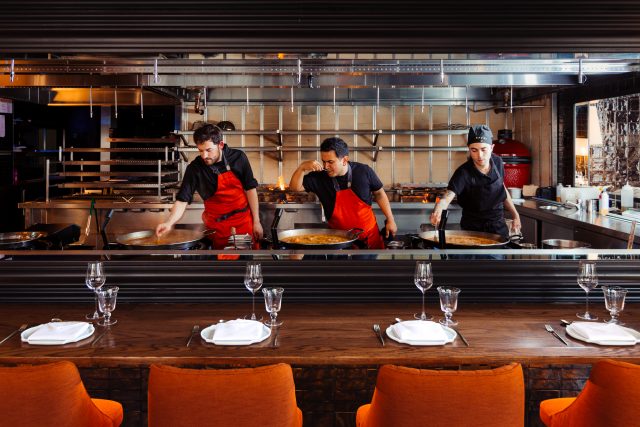 What: Serving up seasonal Spanish rice dishes cooked over flames, Arros QD is the first international outpost of three Michelin-starred Valencian chef Quique Dacosta.
When: Arros QD is reopening today (12 April). Opening times are: Monday-Thursday 12pm-2pm and 5pm to 10pm, Friday-Saturday 12pm-3pm, 5pm-10pm, and Sunday 12:30pm-3pm.
Where: Fitzrovia
Covers: 30
Wines: The focus is on wines from the Mediterranean, with both hidden gems and more well-known examples.
CEO Marcos Fernandez says: "Finally we are back to talking about food, service, joy, happiness, smiles. April is a dress rehearsal for what we hope will be a May definitive opening. I hope that we take the steps to make our restaurants safe in time for winter."
Arros QD, 64 Eastcastle St, London W1W 8NQ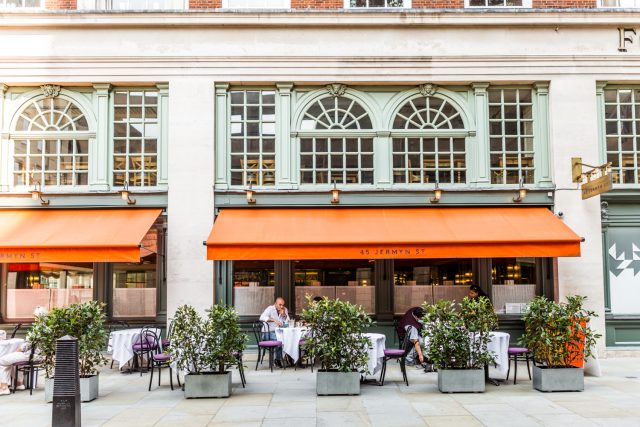 What: Destination Piccadilly dining spot within in the walls of department store Fortnum & Mason.
When: 45 Jermyn St. will be reopening today (12 April). Opening times are: Monday-Sunday 8am-10pm.
Where: Piccadilly
Dining space: Terrace with awning.
Menu details: 45 Jermyn St. has created an asparagus menu this spring, featuring fresh new dishes showcasing the ingredient in all its glory. The restaurant has also added a number of other new dishes to its repertoire, including chicken liver and lardo terrine with piccalilli and toasted brioche; harissa-roasted Devonshire lamb with crispy seaweed potato and chimichuri, and coconut-marinated chicken with spring vegetable salad and spiced tomato chutney.
45 Jermyn St. St. James's London, SW1 6DN

What: While Goodman's Mayfair outpost remains closed, the wine-focused steak chain is reopening its Canary Wharf site this week.
When: Goodman Canary Wharf will be reopening today (12 April). Opening times are: Monday-Tuesday 5pm-10pm, Wedesday-Saturday 12pm-10pm, and Sunday 12pm-7pm.
Covers: 70 
Menu details: The restaurant's famed steaks return, alongside new seasonal side dishes and starters together with a by-the-glass wine list.
Group head sommelier and wine buyer Shane McHugh says: "Thank God this day is finally here, it has made all the lockdown waiting worth it!"
Goodman Canary Wharf, 3 South Quay Square, Isle of Dogs, London E14 9RU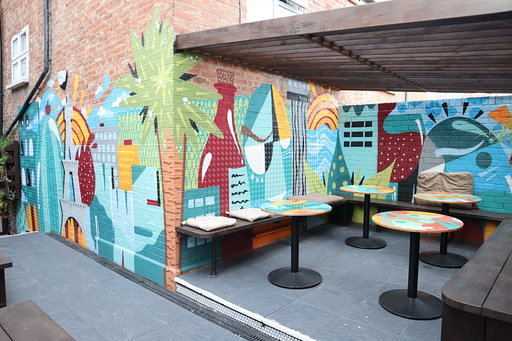 What: A hybrid épicerie, wine merchant, wine bar and terrace.
When: Authentique is reopening on Tuesday (13 April). Opening times are: Tuesday-Sunday, 12pm-8pm (two-hour slots available).
Where: Kentish Town
Covers: 24
Menu details: On offer will be cheese and charcuterie boards as well as wines by the bottle. The full offering, which includes hot food from the kitchen and wines by the glass back, as well as longer opening hours, will return on 18 May, when indoor dining will be permitted.
Co-owner Alexandre Bal says: "We are excited about serving our locals again and transitioning towards going back to our full offering and concept."
Authentique Epicerie & Bar, 114 -116 Fortess Road, NW5 2HL, London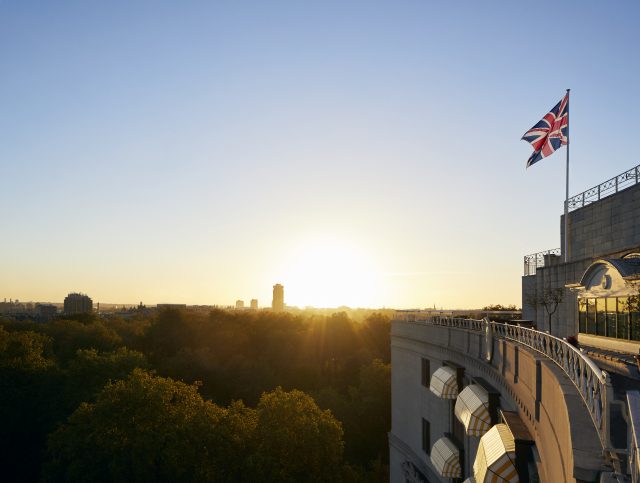 What: Well-known London art deco hotel The Dorchester is opening three al fresco dining areas this week: The Dorchester Rooftop, The Dorchester Terrace & Garden and The Spring Garden.
When: All three spaces will reopen from today (12 April). Opening times are: The Dorchester Rooftop (Monday-Wednesday 12pm-11pm, Thursday-Saturday 12pm-12am – reservations only); The Dorchester Terrace & Garden (daily 12pm-11pm -walk in only); and The Spring Garden (daily for lunch and dinner).
Covers: The Dorchester Rooftop, 64 covers; The Dorchester Terrace & Garden, 14 covers; The Spring Garden, 10 covers (two private globes accommodating up to five guests each).
The hotel says: "Reopening in time to celebrate the hotel's 90th anniversary on April 20, 2021, The Dorchester marks its ninth decade with a celebration of its unrivalled culinary credentials. The hotel will fully reopen from May 17, 2021."
The Dorchester, Park Lane, London W1K 1QA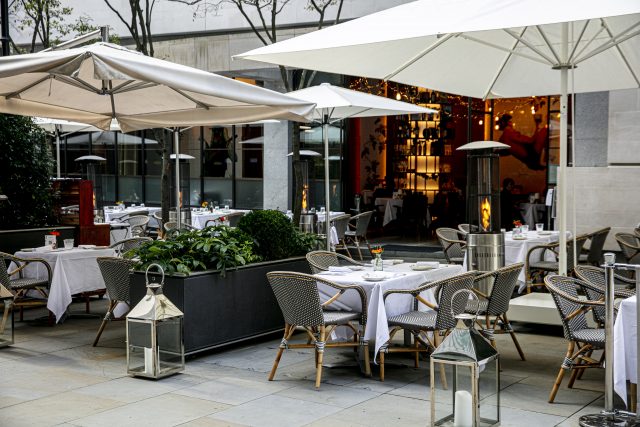 What: Launched in 2014, Ristorante Frescobaldi is a collaboration between the Italian wine-famous Frescobaldi family and operators, Good Food Society.
When: Ristorante Frescobaldi is reopening today (12 April). Opening times are: Monday-Saturday 12pm-3pm and 5pm-10pm.
Where: Mayfair
Covers: 50
Menu: The restaurant will be offering a full a la carte menu and wine list, with 30 wines available by the glass.
Ristorante Frescobaldi, 15 New Burlington Pl, London W1S 2HX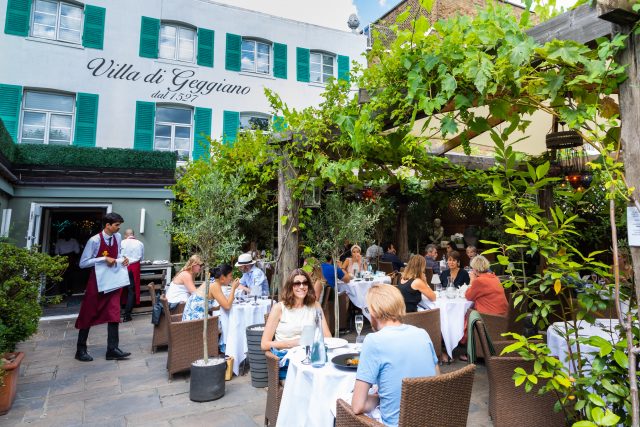 What: West London Italian bringing a touch of Tuscany to Chiswick.
When: Villa di Geggiano will be reopening today (12 April). Opening times are: lunch from 12pm, dinner from 6pm, seven days a week.
Where: Chiswick
Covers: 65
Villa di Geggiano, 66-68 Chiswick High Rd, Chiswick, London, W4 1SY
reservations@villadigeggiano.co.uk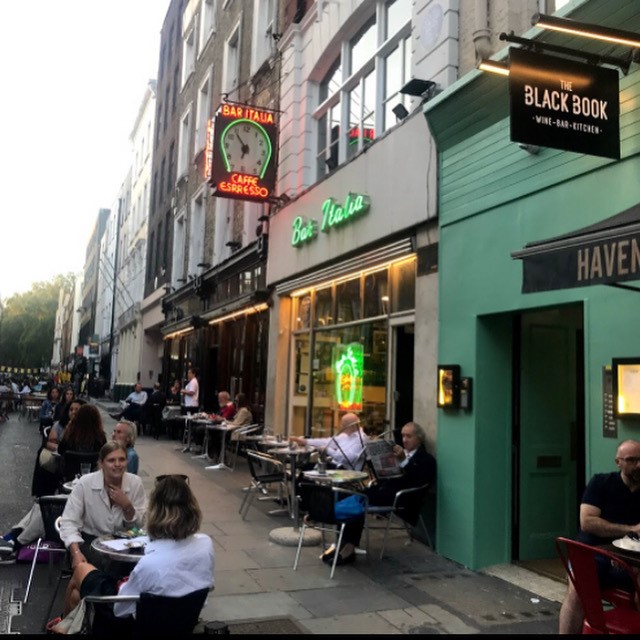 What: Originally hospitality members' club Trade, The Black Book was founded by Master Sommelier duo Xavier Rousset and Gearoid Devaney.
When: The Black Book reopens on 12 April (today). Opening times are: Tuesday-Friday 5pm-11pm, Saturday-Sunday 12pm-11pm. The Black Book will be closed on Mondays, excluding 12 April.
Where: Soho
Covers: 30
Menu details: The wine list can be viewed here, and food menu here.
Co-founder Gearoid Devaney MS says: "We can't wait to see all our friends and regulars having a glass of wine in the heart of Soho."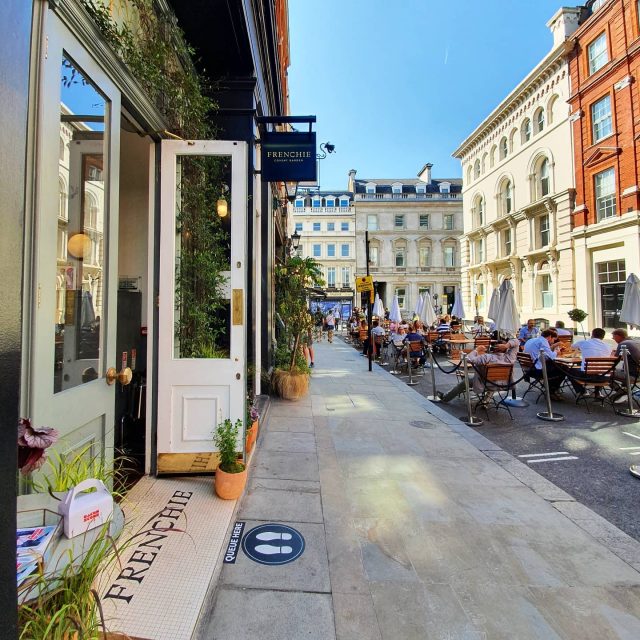 What: Chef Gregory Marchand's Covent Garden bistro, based on the Paris original.
When: Frenchie will be reopening today (12 April). Opening times are 5pm-9:30pm. From 15 April, it will be open from Thursday to Sunday, 12pm-9:30pm.
Where: Covent Garden
Covers: 20
Menu details: Frenchie has launched a new a la carte menu, with all dishes designed to share. Examples include seabream carpaccio, chives sabayon, wild strawberries and cucumber; stuffed chicken breast, Jersey royals, morels and Vin Jaune stew; and rhubarb tart.
Frenchie, 16 Henrietta Street WC2E 8QH London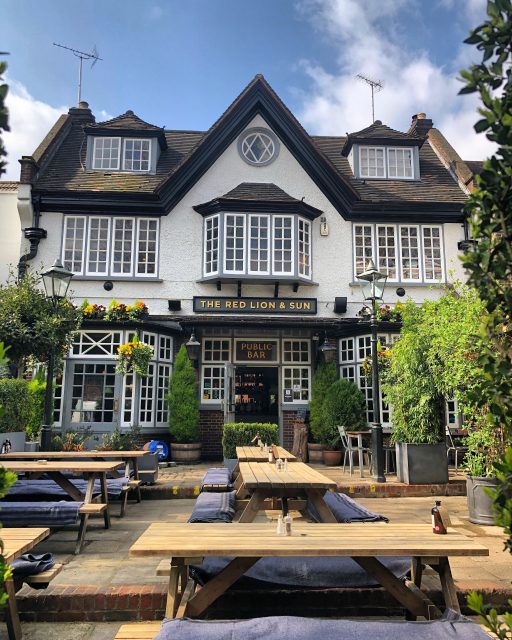 What: Wine-focused, privately-owned pub with two beer gardens and a changing daily menu.
When: The Red Lion & Sun is reopening today (12 April). Opening times are: Monday to Sunday 12pm to 11pm.
Where: Highgate
Covers: 70 covers in front beer garden (under marquee), 30 in rear garden.
Wine: List is divided into whites (aromatics, classics, the romantics, discover something new), sparkling wine and Champagne; rosé and chilled reds; and reds (heartbreakers, the new world, the classics, the romantics). A reserve wine list is also available, which may include top bottles such as Château Cos d'Estournel Blanc, St Estèphe 2015 (£210), Château Cos d'Estournel Blanc, St Estèphe 2015 (£700), Ornellaia, Bolgheri Superiore 2008 (£325), and Batard-Montrachet Grand Cru, Domaine Leflaive 2011 (£600).
The Red Lion & Sun, 25 North Road, Highgate, N6 4BE.
Bookings: 02083401780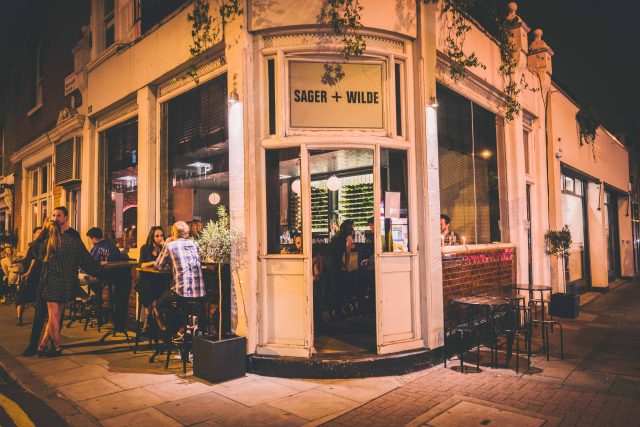 What: London wine bar stalwart, now with locations on Paradise Row, Hackney Road and a sister site called Fare in Old Street.
When: Owner Michael Sager has confirmed that all three sites will be reopening today (12 April). Opening times are: Sager + Wilde – Paradise Row, Monday-Friday 4pm-12am, Saturday-Sunday 12pm-12am; Sager + Wilde – Hackney Road, Monday-Friday 4pm-11pm, Saturday-Sunday 12pm-11:30pm; and Fare, Monday-Friday, 8:30am-12am, Saturday-Sunday, 12pm-12am.
Covers: Hackney Road site has covered seating, while Paradise Row is both covered and heated. Paradise Row can seat 44 outside, while Hackney Road can seat 8 under covered tables. Fare has a capacity of 38.
Food and drink: Small-producer dominated wine list and house cocktail menu, as well as beer and soft drinks. Seasonal, locally-sourced modern European menu available at Paradise Row. At Hackney Road, the bar will be serving nibbles, small plates, cheese, charcuterie and toasties, while Fare will focus on thin crust pizzas, pasta, small plates and grilled dishes.
The restaurant says: "We are also beginning to take reservations for large groups and events from 17/05 across our venues. We host events of all shapes and sizes but are known for our group set menu lunches and dinners, our wine tastings and we also offer cocktail masterclasses."
Sager + Wilde 193 Hackney Road, E2 8JL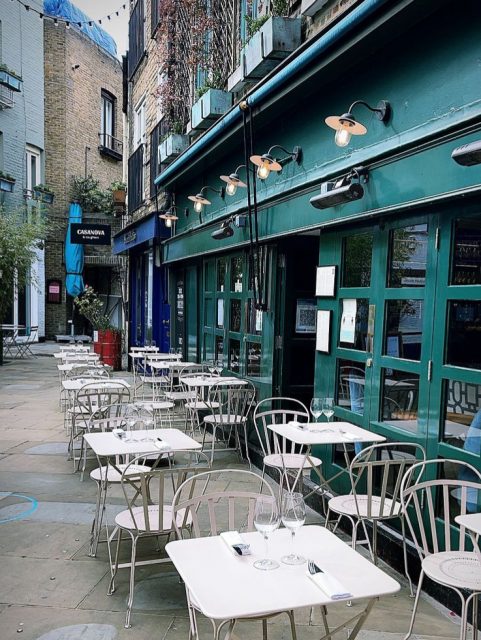 What: Part of the Experimental Group, CVS is a wine haven in Neal's Yard, and is overseen by wine director, gardener and baker Roman Jaën.
When: La Compagnie des Vins Surnaturels is reopening on 12 April.
Where: Covent Garden
Covers: 22
La Compagnie des Vins Surnaturels 8-10 Neal's Yard, WC2H 9DP
Read more:
Digital edition of Wine List Confidential 2020 launches